Senior officials from China, Australia and Malaysia met in the Australian capital Canberra on Monday to hash out the details of the next steps in the search for the missing Malaysia Airlines plane.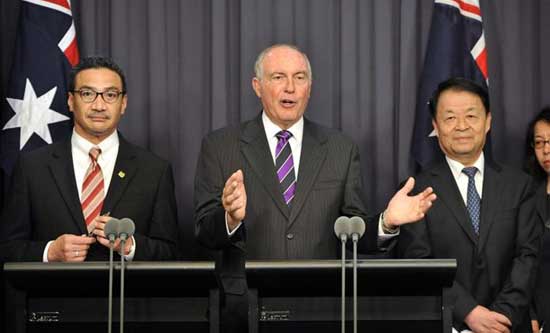 Australia's Transport Minister Warren Truss (C) speaks during a press conference with Malaysia's Transport Minister Hishammuddin Hussein (L) and Chinese Transport Minister Yang Chuantang (2nd R) after talks about missing Malaysia Airlines flight MH370, at Parliament House in Canberra on May 5, 2014.
A new phase of search for the missing Malaysia Airlines flight MH370. The focus has shifted to an expanded undersea search, in the depths of the Indian Ocean. China, Malaysia and Australia decided at a high level meeting in Canberra to strengthen cooperation for the forthcoming search operations.

"As for the new phase of underwater search, we assure that the search will not be interrupted, suspended, given up, or slackened. And with these principles, China will further proactive cooperation and participate in the search in the new phase." Chinese Transport Minister Yang Chuantang said.

Starting Wednesday, all satellite and radar data will be re-analyzed and added to the information gathered so far in the search, that has already covered more than 4.6 million square kilometers of ocean. More detailed oceanographic mapping of the search area will be another key element in the next stage of search.

"Much of this area has never been mapped, and so it will require a significant effort for us to understand the ocean floor in that area." Deputy Australian Prime Minister Warren Truss said.

With the search going completely underwater, more sophisticated equipment, that can operate deeper than the Bluefin-21 submersible, will be brought in. In the interim, the unmanned submersible is continuing to scan the ocean floor.
The weeks long multinational search for surface debris was called off last week, after all efforts to find any floating wreckage proved fruitless. Officials warn that the new phase of the deep sea search is likely to drag on for up to a year.