Premier Li met with Ethiopian President Mulatu Teshome at the National Palace in the capital Addis Ababa on Tuesday. The two leaders exchanged views on deepening cooperation and upgrading bilateral ties to a new level.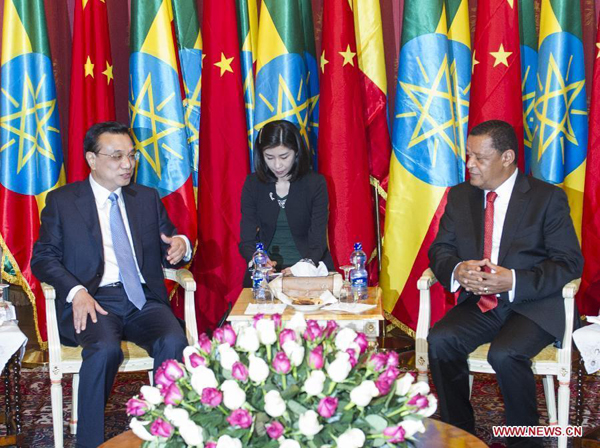 Chinese Premier Li Keqiang (L) meets with Ethiopian President Mulatu Teshome (R) in Addis Ababa, Ethiopia, May 6, 2014. (Xinhua/Wang Ye)
Noting that Mulatu was once his country's Ambassdor to China and had earlier studied in China, Premier Li said China greatly appreciates his contribution to promoting Beijing's ties with Ethiopia and Africa.
Premier Li called China's cooperation with Ethiopia a model for other African nations. He said the two countries have reached an all-dimensional, multi-level cooperation. While inter-governmental, inter-party and people-to-people exchanges serve as pillars, their focus ranges from political, economic and trade issues to cultural cooperation.
Premier Li praised his talks with Ethiopian Prime Minister Hailemariam Desalegn, calling them productive and fruitful. He said the two leaders have reached important consensus on developing bilateral ties and deepening cooperation. Premier Li said he also met with Ethiopians from all walks of life and felt their sincere friendship.
As for economic development, Premier Li said infrastructure construction and open economies are the wheels that propel economic growth of developing countries. He vowed China's commitment to expanding cooperation in railway and road construction, manufacturing, finance and industrial parks.
In response, President Mulatu recalled the visit to Ethiopia by late Chinese Premier Zhou Enlai 50 years ago. Like Premier Li, Zhou also chose Ethiopia as the first leg of his African tour. Mulatu said this shows that China attaches great importance to its relations with Ethiopia.
He also spoke highly of China's development and pledged to learn from China's experience. He also welcomed more Chinese investment to help promote Ethiopia's economic growth and reforms.