Confrontations continue to rage on the streets of Bangkok. On Sunday protestors chanted slogans and even hurled objects in the air, with soldiers attempting to restrain them.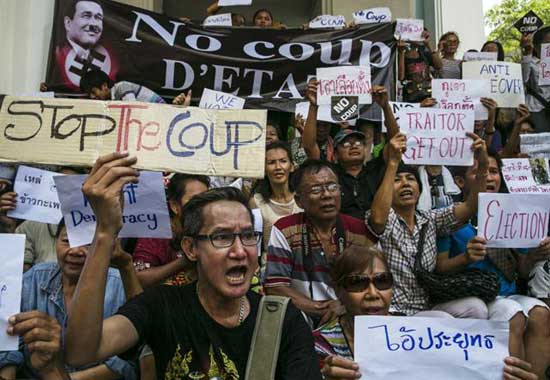 Thai protesters chant anti- coup slogans during an anti-coup protest on the third day of the military coup May 25, 2014 in Bangkok, Thailand.
Confrontation on the streets of Bangkok. Anti-coup protestors chanting "troops go home" at soldiers lined up to hold them back. Angry scenes at the city's main shopping district.
Protestors have once more come out on the streets to oppose the coup in defiance of a ban by the military authorities on gatherings of more than five people. With demonstrations like this now prohibited, every one here faces possible arrest and imprisonment.
Then, it became more heated. Objects were thrown, bottles of water hurled through the air. Pushing and shoving – some people knocked to the ground.
The situation's now much more tense. There've been scuffles between the two sides, protestors pushing forward, the army forced to hold them back with their shields.
"In order to get our rights and freedom back we need to stop being afraid." Protestor Sakul Banglamard said.
"If we don't come out and demonstrate, who will? People need to protest, this is our right." Protestor Veerapat Attasil said.
This despite warnings from the military authorities now controlling Thailand that demonstrations will not be tolerated under martial law.
"I want the public to avoid joining the protests because right now the usual democratic principles cannot be applied." Royal Thai Army Deputy spokesman Colonel Winthai Suvaree said.
Military authorities here have now taken full control, dismissing the upper house of parliament, the Senate, three days after disbanding the civil government. Sanctions have been applied by the United States, with joint military exercises terminated and aid suspended. But on the streets opposition is growing – with soldiers facing the fury of those demanding an end to the military takeover.