Artists in Saudi Arabia are known for their intricate and detailed form of writing known as Arabic calligraphy. In the old town of Jeddah, also known as Al Balad, the traditional art form is getting a new twist by being blended with graffiti.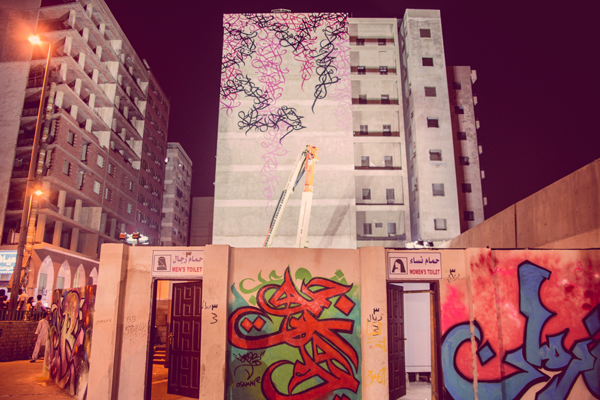 Works of graffiti artist in the old town of Jeddah (Photo by Lize Helsen)
This new form of decorative street art is called "calligraffiti" and is turning younger generations into fans of calligraphy.
A French graffiti artist, who calls himself "Shuck 2" says that there is no politics in his art—it is all about style.
"People think that the graffiti artist is someone who is going to do something political, but that is not the case. Not at all. In fact, we're getting known with our style. On top of that, it's more of a game, a sort of sport, a competition between ourselves, and it's art. It's just for the pleasure of it. So you can have artists who have an agenda, and that's fine. I'm a Muslim convert, and so, of course, I do graffiti in Arabic. There are poems and sayings of the Prophet, peace be upon him," Shuck 2 said.
Jeddah's first and only shop that sells the paraphernalia needed to create calligraffiti is also where established artists, beginners and would-be artists can meet to exchange ideas. Using an abandoned shopping mall for studios, the group is turning its art into a business.
A graffiti artist is working on the side of a building. (Photo by Lize Helsen)
"I'll tell you about the project we have working with a company on their marketing: The idea is to use graffiti art to promote a new mobile phone. The new range of phones will be promoted by graffiti used all over the streets," said Deyaa Rambo, a Saudi graffiti artist.
Most Saudi graffiti artists are not ready to go fully mainstream. They are taking things slowly because living in a conservative society means some people might see their art as a provocative activity.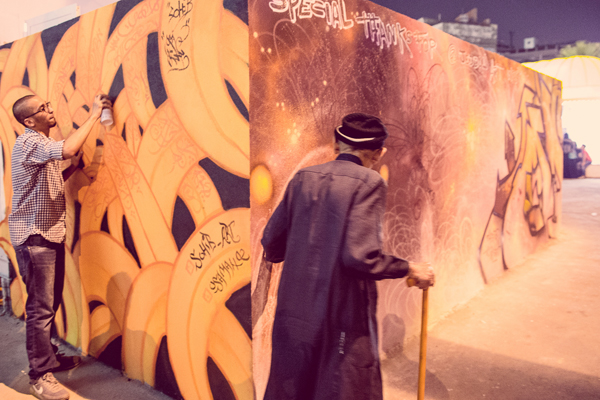 Saudi graffiti artists are taking it slowly in their conservative society. (Photo by Lize Helsen)