Shakespeare's tragedies Hamlet and King Lear have endured through the ages, thanks to the playwright's ability to express the complexities of the human condition. Now, a performance of excerpts from the two tragedies by Syrian refugee children is drawing attention to their situation.
For the children whose families have fled the Syrian civil war for refugee camps in Jordan, they know only too well that "When sorrows come, they come not single spies but in battalions!"
Now they have the chance to perform these timeless phrases from Hamlet during a dual performance of 'Hamlet' and 'King Lear' in the Jordanian capital Amman. Here, the setting of the city's Roman Amphitheatre adds a sense of occasion to the performance.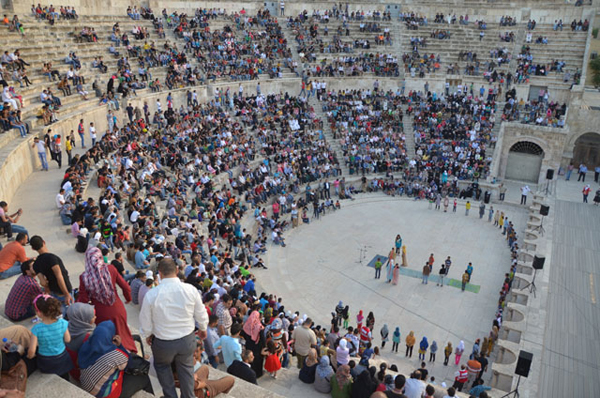 Children from the Zaatari Refugee Camp perform a play adapted from William Shakespeare's "King Lear" and "Hamlet" at the Roman Theatre in downtown Amman. (Photo by Muath Freij)
Organizers have spent months teaching children drama as a way to help them deal with the emotional fall-out of their situations. They are also trying to raise awareness about the plight of child refugees.
"In general, this play is a message of peace from the children of Zaatari to the World, the world that has closed its ears and kept silent to what is going on in Syria, to what is happening to the Syrian children, to what is happening to the people and children in the refugee camps," said director Nawwar Bulbul.

More than 100 children under the age of 15 are taking part in the performance. Even with only two days of rehearsal, their grasp of the lines and interpretation of the plot is impressive.
King Lear is played by 12-year-old Majd Ammari, who has the acting bug and hopes one day to return to Syria.
"We started practicing this play two days ago, and we were afraid that it would not succeed, and now I hope it has succeeded, and I hope to return to Syria, and I hope to go back to school and study drama when I grow up in Syria," Majd said.
Syrian refugee Majd Ammari, 13, performs the role of King Lear during a rehearsal at the Zaatari Refugee Camp on March 8, 2014. (AFP photo by Khalil Mazraawi)
In April 2014, Jordan opened a third refugee camp for Syrians, evidence of the strains the conflict is creating for the country.
Sari al-Assaad, Chairman of the Jordanian artists syndicate, believes this is a great initiative to involve refugee children in the performing arts.
"This is a great thing, that the organisers have taken them towards culture and art, because these children are under psychological, economic and social pressure, and I agree that children must get away from stressful situations and get involved in art and creativity," Assaad said.
For some parting wisdom for the children, one need look no further than Hamlet, who said "This above all: to thine own self be true."
Syrian refugee Majd Ammari, 13, performs the role of King Lear during a rehearsal at the Zaatari Refugee Camp.