China's State Councilor Yang Jiechi is in Hanoi to discuss possible solutions to the rising tension between China and Vietnam. The talks are centered on a Chinese oil rig in the South China Sea. Speaking on Wednesday, Yang said the two countries must solve the dispute properly through political and diplomatic efforts.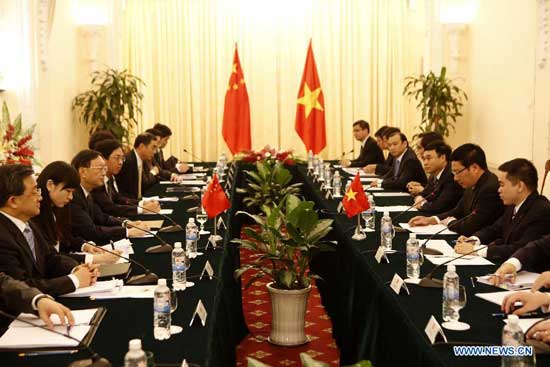 Chinese State Councilor Yang Jiechi (3rd L) holds a meeting with Vietnamese Vice Prime Minister and Foreign Minister Pham Binh Minh (2nd R) in Vietnam's capital Hanoi on June 18, 2014. (Xinhua/Zhang Jianhua)
Yang's comments came as he met Vietnamese Foreign Minister Pham Binh Minh in Hanoi. Yang says China is willing to work with Vietnam to push their comprehensive strategic cooperative partnership in a healthy direction. But he called on Vietnam to stop its "disruptive actions" against the Chinese drilling operation near the Xisha Islands in the South China Sea.
Since May 2nd, there have been several clashes around the rig, with Vietnamese boats ramming Chinese coastguard vessels more than 14 hundred times. China says the Xisha Islands are its inherent territory and says that up until 1974, Vietnam officially recognized the area as coming under Chinese sovereignty, before the country later switched its position.