US President Barack Obama has met with congressional leaders to discuss a US response to the militant advance in Iraq.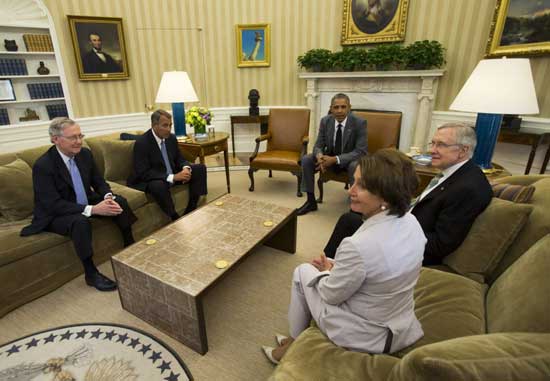 U.S. President Barack Obama (C) meets with Congressional leaders to discuss the situation in Iraq in the Oval Office of the White House in Washington June 18, 2014.
Senator Mitch McConnell, the top Republican in the Senate, along with Senate Majority Leader Harry Reid, House Speaker John Boehner and House Democratic Leader Nancy Pelosi all gathered at the White House on Wednesday. Ahead of the meeting, Reid said the US had no business sending troops into the midst of what he called Iraq's civil war. Officials say Obama has ruled out returning combat troops to Iraq in order to quell the insurgency.
However, he has notified Congress that up to 275 armed US forces are being positioned in and around Iraq to provide support and security for US interests.