Chinese Premier Li Keqiang is in the UK on the 10th anniversary of the establishment of the China-Britain comprehensive strategic partnership. During his visit, he proposed, that China and Britain expand two-way cooperation to reach a new level.
Premier Li Keqiang met his British counterpart, David Cameron at an annual meeting.
Li called on both countries to boost cooperation in areas like nuclear power, high-speed railway, as well as urbanization.
He added China and Britain should constantly consolidate the political foundation of bilateral ties, and promote common growth.
Li applauded measures adopted by Britain to simplify visa application procedure for Chinese visitors.
David Cameron said bilateral cooperation has borne rich fruits since the two countries forged a strategic partnership a decade ago.
He said Britain attaches great importance to its relationship with China and is willing to have sincere dialogues with China.
Cameron added that Britain welcomes more Chinese companies to invest in Britain and more Chinese students to study here.
Chinese premier rules out economic hard landing
At Mansion House in London, Premier Li also addressed a gathering co-hosted by Chatham House and the International Institute for Strategic Studies, two prestigious British think tanks.
Li said China's economy is not headed for a hard landing, and will continue to grow at a moderate to high pace.
The Premier pointed out that China is still in the process of industrialization and urbanization and its development remains unbalanced.
He added, that the Chinese government is employing precise adjustment and control measures to make sure that the pace of economic growth will be no slower than 7.5 percent.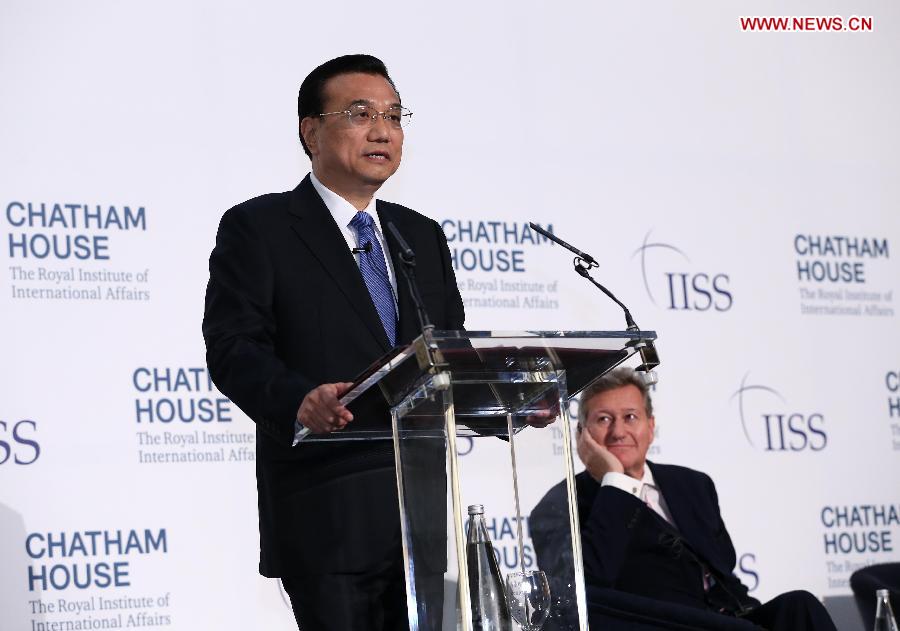 Chinese Premier Li Keqiang (L) delivers a speech to Chatham House and the International Institute for Strategic Studies, two prestigious British think tanks, at the Mansion House in London, capital of Britain, June 18, 2014. (Xinhua/Pang Xinglei)
Premier Li: China-Britain economic bond grows stronger
Li Keqiang also attended a welcome banquet held by business delegates from both China and Britain at the Natural History Museum in London.
Li told the some 600 attendees that during his official visit to Britain, the two sides inked a host of agreements on mutually beneficial cooperation.
He said the establishment of London's first RMB clearing bank and the start of direct trading in the two currencies will not only consolidate London's status as an international financial hub, but promote the internationalization of the RMB.
Chancellor of the Exchequer George Osborne said China's reform and opening-up policy has cast far-reaching influence upon the world and effectively promoted the development of China-Britain relations.
The Chinese premier is in London on an official visit to Britain. His ongoing two-nation Europe tour will also take him to Greece.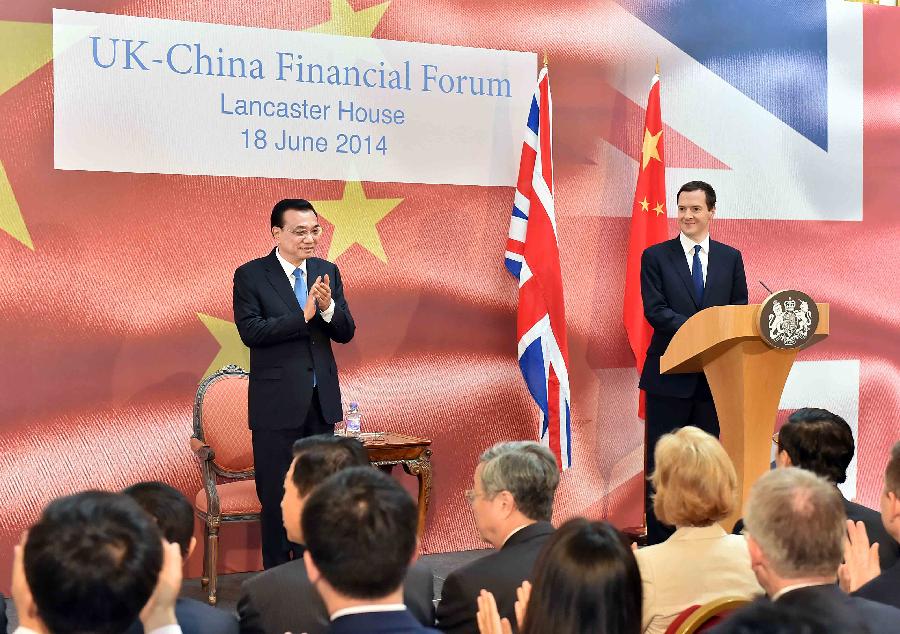 Chinese Premier Li Keqiang (L) and British Chancellor of the Exchequer George Osborne attend the UK-China Financial Forum in London, capital of Britain, June 18, 2014. (Xinhua/Li Tao)