Algeria beat South Korea 4-2 in a Group H second round World Cup match here on Sunday.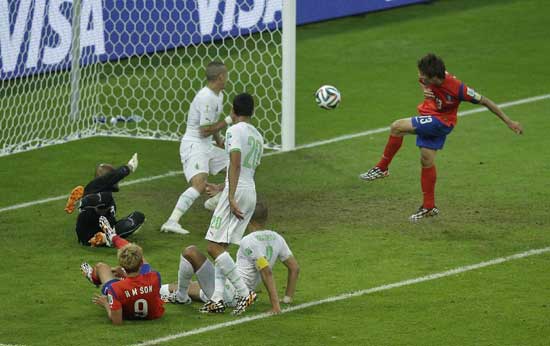 South Korea's Koo Ja-cheol, right, shoots and scores his side's second goal during the group H World Cup soccer match between South Korea and Algeria at the Estadio Beira-Rio in Porto Alegre, Brazil, Sunday, June 22, 2014.
The goal-fest began on the 26th minute with a fine individual effort by Islami Slimani. South Korea were having a poor first half, and within 12 minutes, Algeria were 3 up, after goals from Halliche and Djabou. But the South Koreans were a different team in the second half, and scored early through Son Heungmin. It looked like they might pull another goal back, but on the 62nd minute, Yacine Brahimi made it 4-1 to Algeria. That wasn't the end of it though. South Korea scored another ten minutes later, with a tap in by Koo Jacheol.
The result leaves Group H wide open with only Belgium through to the second round, and Russia, Algeria and South Korea all still in the mix going into the final game.
(L-R) South Korea's Kim Shin-wook reacts, as Algeria's Carl Medjani, Rafik Halliche and Essaid Belkalem celebrate at the end of their 2014 World Cup Group H soccer match at the Beira Rio stadium in Porto Alegre June 22, 2014. [Photo/Agencies]