Netherlands and Chile battled to finish at the top of Group B. After regulation time, the Netherlands came out on top, beating Chile 2-nil, thanks to goals scored by Leroy Fer and Memphis Depay in the second half.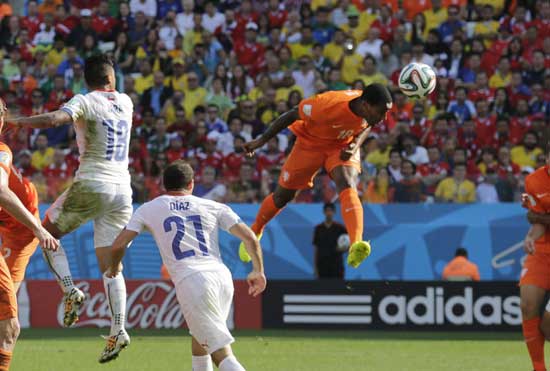 Netherlands' Leroy Fer scores the opening goal during the group B World Cup soccer match between the Netherlands and Chile at the Itaquerao Stadium in Sao Paulo, Brazil, Monday, June 23, 2014. [Wong Maye-E / Imagine China]
Both teams having already secured a spot in the next round, Monday's game between the Netherlands and Chile was only meant to decide the winner of Group B. Now Chile will meet the winner of Group A - probably host nation Brazil, depending on its result against Cameroon. And the Netherlands is likely to face an easier time against either Croatia or Mexico.
Meanwhile also in Group B, Spain beat Australia 3-0, in a game with virtually nothing at stake. At the 36th minute, Spain's Midfielder David Villa scored a goal, helping their team lead Australia by half-time. Later at the 69th minute and 82nd minute, Fernanda Torres and Juan Mata each scored a goal, cementing Spain's lead over Australia.