Argentina has beaten Nigeria, cementing their position as the top finisher in Group F. Lionel Messi scored the first goal for Argentina in the third minute. But Nigeria levelled in only one minute with a curling shot toward the far post by Ahmed Musa. Messi then curled in a perfect free kick just before the break.
Argentina's Lionel Messi, right, hugs his teammate Javier Mascherano after scoring his side's second goal during the group F World Cup soccer match against Nigeria at the Estadio Beira-Rio in Porto Alegre, Brazil, Wednesday, June 25, 2014.
Musa scored his second of the game in the 47th minute. Only 3 minutes later, a header by Argentina's Ezequiel Garay hit his teammate Marcos Rojo on the knee before skipping into the net. Despite the loss, Nigeria still secured a spot in the next round.
In the other Group F match, Bosnia-Herzegovina beat Iran. Edin Dzeko's long-range strike gave Bosnia a 1-0 lead at halftime. In the second half, Miralem Pjanic and Avdija Vrsaljevic scored another two to help Bosnia win the game. But Rezi Ghoochannejad helped Iran to score its first goal of the tournament.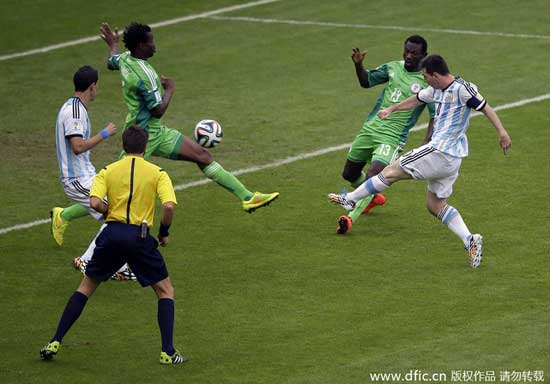 Agentina's Lionel Messi scores a goal during a 2014 World Cup Group F match between Nigeria and Argentina at the Estadio Beira-Rio in Porto Alegre, Brazil, Wednesday, June 25, 2014. [Photo: Imagine China]