Australian Deputy Prime Minister has announced the search area for the missing Malaysia airlines flight MH370 has shifted to further south in the Indian Ocean. At a press conference, he said it is highly likely that the plane was on autopilot when it flew into the ocean. It's now been more than three months since the Beijing-bound Malaysia Airlines Flight MH370 lost contact with air traffic control. The plane was carrying 239 people when it went missing en route from Kuala Lumpur to Beijing. Earlier, we spoke to our correspondent from Kuala Lumpur, Rian Maelzer, who monitored the press conference.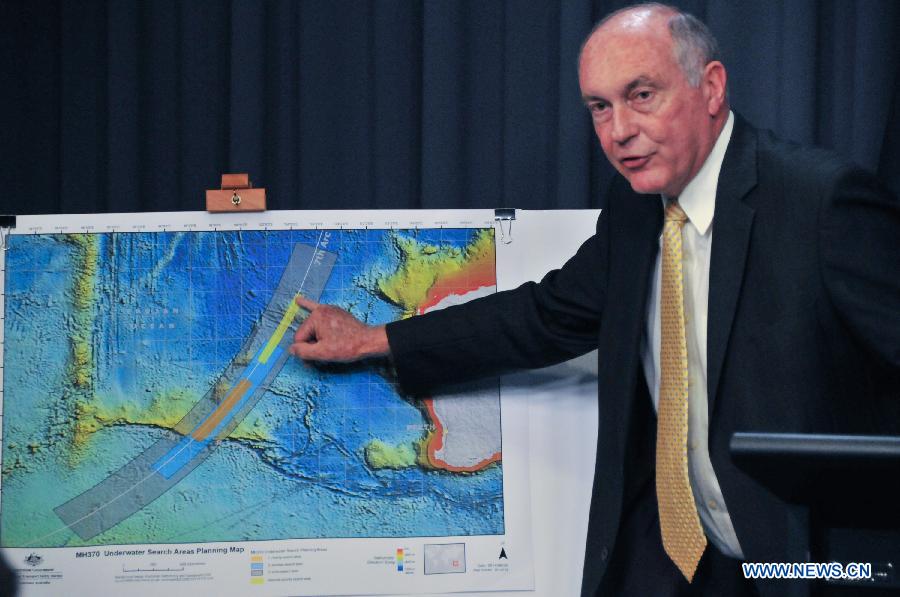 Australian Deputy Prime Minister Warren Truss points the new search area for MH370 to reporters at a press conference at Australian Parliament House in Canberra, June 26, 2014. Australian Deputy Prime Minister Warren Truss said on Thursday that it is "highly likely" the missing Malaysian airliner flew on autopilot until it ran out of fuel and crashed into the Indian Ocean. (Xinhua/Xu Haijing)
"The new priority area is still focused on the same seventh ark in the Southern Indian Ocean, with the aircraft's last communicate with the satellite. We are now shifting our attention to an area further south along that ark, broadly in the area where our first search effort is focused. The area has already been subjected to area envision searching for wreckage debris, but now we are moving to an underwater search. Again I want to reiterate that this area of the sea is very deep, about three to five kilometres by estimation. And it is largely unmapped. Australian Transport and Safety Bureau is today releasing a report that outlines the basis of the search area, and the calculation that has been undertaken, which lead us to the view, that the new search area is the most likely place where the aircraft is resting," said Warren Truss, Australian deputy prime minister.
Australian Deputy Prime Minister Warren Truss points the new search area for MH370 to reporters at a press conference at Australian Parliament House in Canberra, June 26, 2014. Australian Deputy Prime Minister Warren Truss said on Thursday that it is "highly likely" the missing Malaysian airliner flew on autopilot until it ran out of fuel and crashed into the Indian Ocean. (Xinhua/Xu Haijing)