It's Day 15 of the World Cup in Brazil and Germany have beaten the United States 1-0 to top Group G.
Germany's Thomas Mueller, right, celebrates after scoring a goal during a 2014 World Cup Group G between the USA and Germany at the Arena Pernambuco in Recife, Brazil, Thursday, June 26, 2014. [Photo: Imagine China]
The Germans took the lead early in the second half. Striker Thomas Muller scoring from the edge of the area in the 55th minute. It was Muller's fourth goal of this World Cup and he joins Brazil's Neymar and Argentina's Messi at the top of the scoring charts.
The result means Germany progress to the next round, they top Group G with 7 points. The US also qualify after finishing second in the group with 4 points.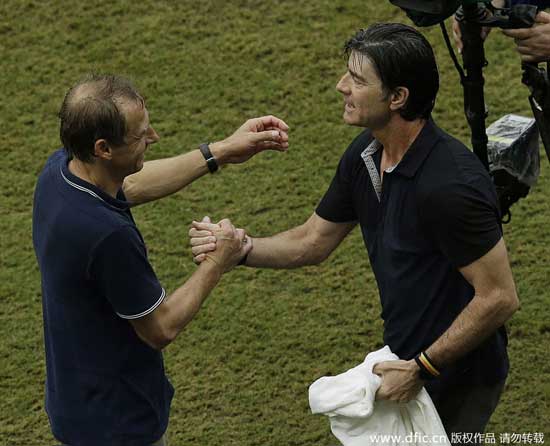 United States' head coach Juergen Klinsmann (left) and Germany's head coach Joachim Loew (right) greet each other after a 2014 World Cup group G match between the USA and Germany at the Arena Pernambuco in Recife, Brazil, Thursday, June 26, 2014. Germany beat the United States 1-0. [Photo: Imagine China]