One of the main reasons for hosting the World Cup in Brazil's Manaus the country's most populous Amazon city is to increase tourism revenue in both the short and long term. CCTV reporter Stephen Gibbs visited one of the main tourism attractions in Manaus, to see if it really did get a World Cup boost.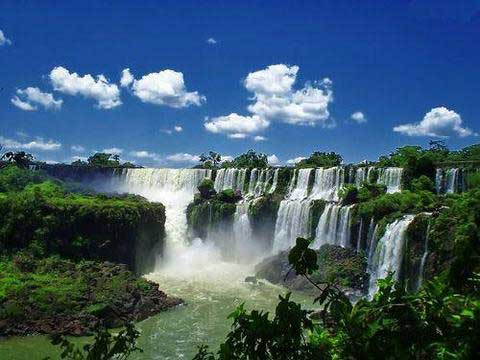 The Amazon is perhaps the place most often associated with Brazil, but actually is one of its least-visited regions.
The Amazon is perhaps the place most often associated with Brazil, but actually is one of its least-visited regions. Less than ten percent of the foreign tourists who travel to this country add the Amazon to their itineraries. Owing to the World Cup, visitor numbers are up, but not perhaps as much as some hoped.
"For me it was good. I was hoping it would be fantastic. But it wasn't that."
But it is the longer-term legacy which really matters; and the Amazon authorities are hoping the World Cup will persuade a whole new generation of travellers that you don't need to be especially adventurous, or rich, to come here.
"The benefit is incalculable in terms of media exposure, in terms of the positive view the world now has of the Amazon region." Oreni Braga, Secretary of Tourism of Amazonas State said.
This is the side of the Amazon which perhaps many global visitors would not be aware of. The Parintins folkloric festival, on an Amazon island, coincided with the tournament.
It is an extraordinary operatic competition, where residents compete over who can re-tell and indigenous legend in the most flamboyant way.
This spectacular festival in the jungle in fact forms part of a very carefully thought out strategy to try bring more tourists from Brazil and further afield to the Amazon.
"We hope that more big companies are going to invest here in tourism, in this sort of reflective tourism, as well as ecological tourism; and this will attract not only older tourists, who love this, it will bring younger visitors too". Jos Melo De Oliveira, Governor of Amazonas State said.
Some of those who came out to the World Cup, and stayed on, seemed convinced
"I wouldn't be here if it wasn't for the World Cup, I didn't really associate the Amazon with travel at all, it seems like this foreboding jungle." a tourist said.
"Its incredible that all that this exists in the middle of the of the forest. You have to go for hours and hours boat ride to arrive here; you'd never expect it." a tourist said.
Challenging visitors preconceptions is something plenty of people here, are relishing.