After the end of World War Two, when Japanese war criminals were apprehended and interrogated, they wrote confessions. And now China's State Archives Administration has started to release the written confessions of 45 Japanese war criminals, one a day. The first admits to killing at least 5,000 Chinese civilians.
Japanese World War 2 criminals' confessions released
Confessions:
"April 1942, I brutally killed 235 Chinese seeking refuge, cutting open the bellies of pregnant women among them."
"October 1942, I murdered 1,280 Chinese peasants, by shooting, bayoneting, slashing and burying them alive."
"In 1942, I ordered to set up comfort stations in all regions where Japanese troops were stationed. 60 Chinese women served as comfort women."
"In 1945, in order to test the method of killing people by air injection, I ordered to conduct an experiment on Chinese soldiers, with an extremely high price."
These are just a few of the war crimes committed by Lieutenant General Keiku Sukuzi.
Altogether, Suzuki confessed that he killed over 5,000 Chinese, and burned down 18,000 houses. He also wrote "the actual number may be much bigger."
Suzuki was one of the worst criminals who were convicted and sentenced by a Chinese military tribunal.The State Archives Administration says that it will release the written confessions of them all online.
"The crimes include killing, arresting, enslaving and poisoning the Chinese people, raping Chinese women, manufacturing biological weapons, releasing poison gas, destroying towns and villages and expelling peaceful inhabitants. Starting today, we will release all their confessions on the Internet, one criminal per day," Li Minghua, deputy director of State Archives Administration, said.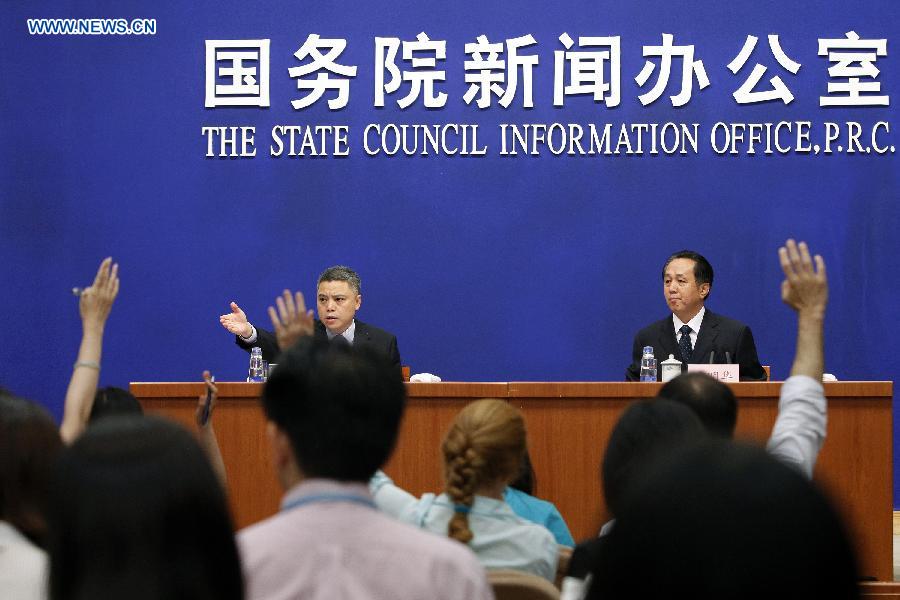 Li Minghua (R), deputy director of the State Archives Administration of China, attends a presss conference in Beijing, capital of China, July 3, 2014. Confessions made by 45 Japanese war criminals tried and convicted by military tribunals in China after World War II (WWII) will be published on the website of the Chinese State Archives Administration from Thursday, which is http://61.135.203.68/rbzf. Handwritten confessions, along with Chinese translations and abstracts in both Chinese and English, will be published by one each day over a 45-day period. (Xinhua/Shen Bohan)
Li says that except for the names of the comfort women — the Japanese term for sex slaves, not a single word in the confessions has been cut or edited. All the documents were handwritten by the criminals or have their signatures.
The authorities say that the release of these archives are not for revenge, but rather, they remind the people of the importance of peace, because these materials are tragic proof of how wars can unleash man's inhumanity.
But Japanese Prime Minister Shinzo Abe repeatedly denies the history of the Second World War and glorifies the Japanese aggression.
On Tuesday his cabinet officially approved a resolution that will allow the country to exercise collective self-defense. This is to be done by reinterpreting the pacifist Constitution.The move caused nation-wide outrage in China.
"There is always someone in Japan who tries to deny the crimes and aggression of the Japanese army. This hurts the feelings of the Chinese people. That's why we decided to release these materials on the 77th anniversary of the start of the War of Resistance Against Japanese Aggression — not just as evidence to prove the truth of history, but also to use history as a guide for the people in the present," Li Minghua said.
Suzuki was one of more than 1,100 Japanese war criminals arrested and interrogated in China after the Second World War.
The State Archives Administration says their confessions amount to a total of 200,000 pages. And the 45 confessions of atrocities being released are just a tip of the iceberg.