China, Brazil, Russia, India and South Africa have signed the long-anticipated document for the 100 billion US dollar BRICS development Bank at this year's BRICS Summit. The bank also has a reserve currency pool also worth 100 billion dollars.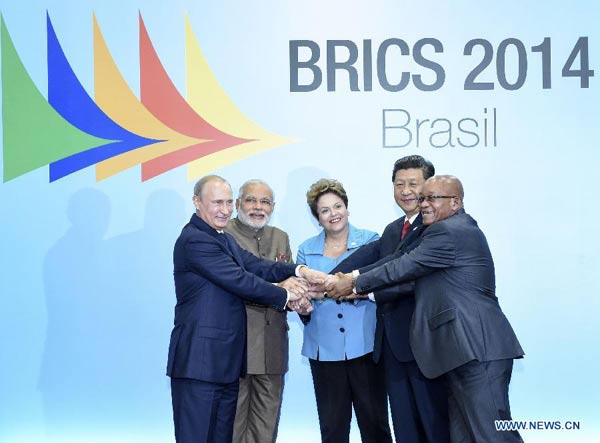 Chinese President Xi Jinping (2nd R) poses for a group photo with Russian President Vladimir Putin (1st L), Indian Prime Minister Narendra Modi (2nd L), Brazilian President Dilma Rousseff (C), and South African President Jacob Zuma during the sixth BRICS summit in Fortaleza, Brazil, July 15, 2014. (Xinhua/Li Xueren)
It's a glaring alternative to the Western dominated Bretton Woods system established after World War II and a challenge to the US dollar. Our Stephen Gibbs has this report from Fortaleza, Brazil where the summit is held.
The leaders of almost half the world's population, together in one place. The BRICS has long been seen as an informal gathering, a meeting of mutual interests.
Now Brazil, Russia, India, China and South Africa are seeking to create something concrete, part of their ambition to reflect a changing world economic order.And this meeting presented a decision on that. The creation of the BRICS development bank.
These institutions have not been created to be against anybody. They have been created to be in our favor. It's a different perspective. They are in favour of the BRICS countries and also in favour of all developing nations. We are opened to see what this relations is going to be like with other developing nations even though we don't know this exactly yet, as we have just created the bank," Dilma Rousseff, Brazilian President said.
There had been some negotiation between India and China as to where that bank will be based, and who will head it. The decision made here is that the headquarters will be in Shanghai, and its first President will be Indian.
"Under the efforts from all parties ... but also benefits us, and all people from the developing countries," Xi Jinping, Chinese president said.
This was also the first major appearance on the international stage of the recently elected Prime Minister Modi of India.
He held his first one-on-one meeting with President Xi.
The BRICS is perhaps unique in world grouping. Neither a trading block, nor a political alliance, its members are keen to stress that it is much more than just a name. And now there will be a bank with the BRICS name, an important step towards a more established role, has been taken.