Chinese smart phone vendors have been enjoying fast growth at home and abroad in the past two years, with good quality and also good prices. And now a new Chinese brand is emerging, with ambitions to challenge the upcoming iphone6. The brand's weapon is the new generation of 3D display technology, called holographics.

The world's first holographic smart phone was released on Thursday in Beijing, by a Chinese company Takee Technology.

The Takee One handset can use its front camera to catch the user's eye movement, allowing the user to see 3D effect from different viewpoints. When an additional shell is attached, four extra cameras can catch the user's finger movement, allowing controls in the air.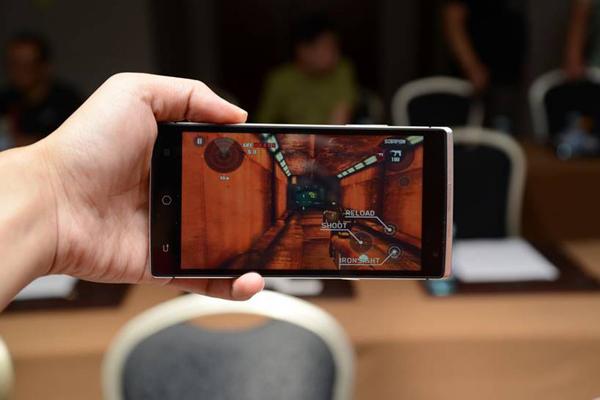 The world's first holographic smart phone was released on Thursday in Beijing by Takee Technology.
Estar, the parent company of Takee Technology, has 10 years of research experience in screen display, and is completely new in making handsets. It's CEO Liu Meihong, proudly presenting the holographic technology, hopes to make a disruptive breakthrough in the smart phone field.

"Innovation in the phone industry may not necessary come from phone makers. We are good at making screens, and I think our holographic technology is ready. We may be new in making phones but our products will improve. We welcome technology-lovers to try our phones," Liu Meihong said.

Global smart phone shipments in 2014 is set to reach 1.2 billion units, according to research firm IDC. China accounts for one third of the market, with Chinese brands occupying half of the top-ten list. Huawei, Lenovo, Xiaomi and ZTE offer phones with high technical specifications and competitive prices. They're grabbing more and more market shares from high-end segment rivals like Apple and Samsung.

"Chinese mobile phone vendors have surpassed the period of being copycats. The fact that Chinese brand phones are selling very well both at home and abroad means Chinese manufacturers are strong at R&D and good at satisfying customers with solid quality and good prices. Branding will be the next target," said Sun Wenping, chair of Shenzhen Mobile Phone Association.

Mr. Liu says the prices of Takee One will be decided by all subscribers in the next two months. That's when the handsets are available on the market. Well, it will be exactly the time for Apple to release its next generation iphone6.