The 2014 World Snail Racing Championship took place Saturday in the English village of Congham, which has hosted the championships for more than 25 years, attracting people from far and wide.
2014 World Snail Racing Championship
"I think people love snail racing because it doesn't cost a penny. You can race a snail and end up being a world champion at the end of the day and how exciting is that?" snail master Neil Riseborough said.

One competitor from Germany sounded confident ahead of the Championships.

"Well, I think, really, diet is everything, so I raised it on lots of salad. And lots of water, of course. You have to get hydrated for the race. Also, he got a good rest after arriving in England to adjust to the time difference, so I think it's very fit. It'll win."

One-hundred-and-fifty snails were entered for this year's championships, with several heats whittling down the numbers before the final.

The final race was conducted on a specially embroidered table cloth that was regularly doused with water to help facilitate the best racing conditions.

The race began from a small red circle in the center of the table to an outer red ring. The first to touch the outer red ring was crowned the winner.

The winner, called 'Wells', crossed the critical 'outer red ring' in 3 minutes and 19 seconds, a slow time which reflected the difficult humid conditions of the day. The next world championships will be held on July 18, 2015, but it is not yet clear if Wells will return to defend his title.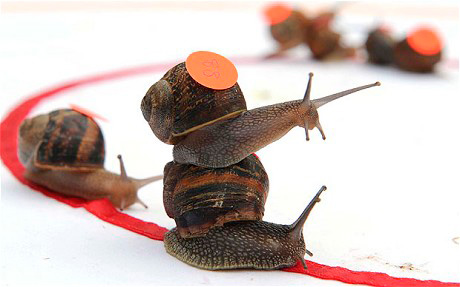 2014 World Snail Racing Championship
2014 World Snail Racing Championship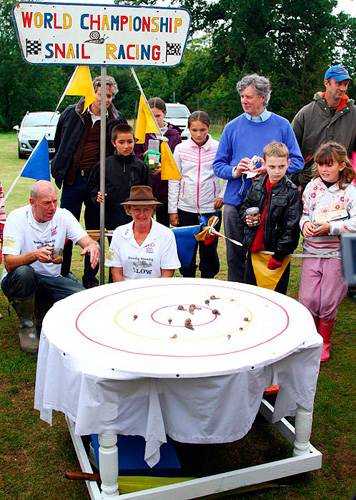 2014 World Snail Racing Championship