Chinese President Xi Jinping is in Cuba on the final leg of his four-nation visit to Latin America. China is Cuba's second-largest trade partner, after Venezuela. Cuba imports almost everything from buses and cars to machine tools and household appliances from China. Many goods come with generous interest-free credit from Beijing.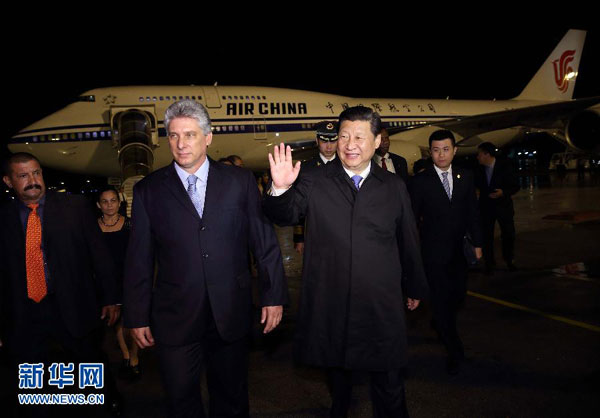 Chinese President Xi Jinping (R Front) arrives in Havana on July 21, 2014 for a state visit to Cuba. (Xinhua/Lan Hongguang)
Xi arrived Monday night. In a written statement, issued at the airport, Xi recalled that in 1960 Cuba became the first country in North America to recognize the People's Republic of China.

But this is more about business than politics. Cuba's president Raul Castro has launched the island's first major overhaul of its economic model and is now looking to attract foreign investment, particularly from China.

A key part of the offering is a tax-free special development zone currently under construction around the new container port at Mariel.

This week, a group of almost 50 Chinese executives is visiting Havana to learn more about the reform process and look at potential trade and investment opportunities. Previous Chinese investment offers to expand Cuba's main oil refinery and nickel plants never materialized, because of the uncertain business climate. But things could be changing.

"From the new policy issued from the government we can say there's a better opportunity here for investment and also for trade," CREC Marerial president Yang Jiabin said.

"Cuba has really opened to outside, we found that it has changed a lot," CRM International managing director Wang Xin said.

A new factory using Chinese technology to produce blood sugar sensors for diabetics was officially opened in Cuba on Tuesday. Further Chinese investment in Cuba's biotechnology and pharmaceutical sector is expected to follow.