Tourists at the 2014 Mud Festival in Boryeong, South Korea, are having a blast. The annual festival aims to promote the healing properties of the local mud, and it is attracting millions of revelers from all over the world.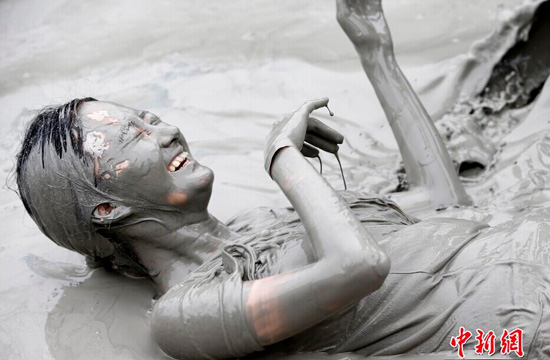 2014 Mud Festival
More than 3 million visitors are expected to visit for a tumble and slide in the town's ample mud supply.
The annual tradition began in 1998 to advertise the purported health benefits of Boryeong's mineral-loaded mud.

Boryeong Mayor Kim Dong-Il said: "A few years ago only foreigners came and enjoyed the mud. But now we have a global festival where South Korean citizens and foreigners can play together. In particular, we are creating the world's best circumstances for visitors to fall in the mud together, tumble together, release all their built-up stress, and also to feel a beautiful smoothness in their skin."

"The first thing we did was the mud jail, where we got locked up, and they just threw buckets of mud at us, got completely soaked. So that was a great experience. It feels great on the skin, and I just want to go soak in mud right now I would definitely come back again if I had the chance," tourist Ben Wolley said.

But it is not just mud that people are throwing. This year, tomatoes are also being squished, making this probably the world's messiest festival. Women and children are caked in mud, soaked in a tomato bath and then throw tomatoes at one another. But men were not allowed in for safety concerns. The festivities will continue until July 27.
2014 Mud Festival
2014 Mud Festival