British acting legend Sir Christopher Lee is putting some of his "Lord of The Rings" props under the hammer. The items have already gone on display at the Bonhams auction house in London, where they've been open to the public.

Christopher Lee plays the evil wizard Saruman in "Lord of the Rings". He's selling three items from his collection, including two of the most powerful and magical weapons to feature in J.R.R Tolkien's novels - Saruman's staff and Aragorn's sword. Both are expected to fetch high prices in US dollars.

"Well, we've got two very important pieces. We have Saruman's staff, the evil wizard Saruman, played by Sir Christopher Lee. The staff is his principal staff, which he used throughout the trilogy and in the extended versions, and we have that valued at $100,000 to $150,000 (US dollars). We also have Aragorn's sword. It's Anduril, which is the sword re-forged from Narsil, presented to Aragorn in the final episode of 'The Lord of the Rings,' 'The Return of the King,' and we are expecting that to sell for between $150,000 to $250,000 (US dollars)," said Katherine Schofield of Bonhams Auction House.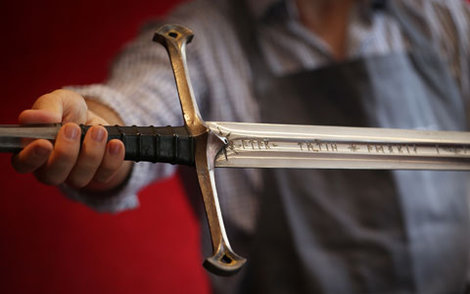 Magical weapons to go under the hammer
The metal staff stands over six feet tall, topped by a pronged resin crown that cradles a hand-blown glass orb.

Aragorn's hero sword 'Anduril' was designed by master swordsmith Peter Lyon. It's crafted from steel and is one of only four hero swords made for Viggo Mortensen as Aragorn in "The Return of the King."

The third item Lee is selling is a clapperboard, also used during the filming of "The Return of the King."
Magical weapons to go under the hammer
"Yes, we also have the clapper board, which was given to Sir Christopher Lee following his final scene, which was shot for the extended version of 'The Return of the King'," Katherine said.

The auction is named "There's No Place Like Hollywood" and will be held in New York on November 24th.

Before that, the items have gone on display to the public at Bonhams Knightsbridge salerooms in London earlier this week.