This August the Chinese National Library's affiliated museum of classic books is exhibiting 800 rare pieces, which have never been shown to the public.

The National Museum of Classic Books in Beijing begins its group tour with an exhibition of 800 precious works. They are organized into nine categories, which include ancient rare books, metal and stone rubbings, Dunhuang documents, and much more. Each section represents a different part of Chinese literary history, and forms a record of a five thousand year-old Chinese culture.

"This exhibition is one of our largest to date. With it, we can journey into the earliest Chinese traditional culture. Through every single book we can learn about our ancestors and their way of thinking. Our job is to pass their legacy to the next generation of Chinese people," said Lin Shitian, director of exhibition of National Liberary of China.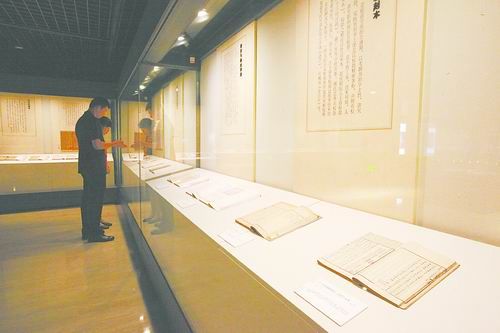 Rare pieces of Chinese classical books shown to public
The museum, established by the National Library of China, is the country's first public institution to focus on exhibitions of ancient books. It houses more than 2 and half million copies of ancient classics.

The Dunhuang documents were unearthed in 1900 in Northwest China's Gansu province. There are about 60 thousand manuscripts, printed materials and rubbings in several languages. These documents are some of the most important cultural heritages of China.

"This is our oldest Buddhism sutra and has been preserved very well. Our archeologists found this untouched in a Dunhuang cave. After two years of preparation, we are finally able to display it to the public," Lin said.
Rare pieces of Chinese classical books shown to public
"As a historian myself, I'm very excited to participate in this tour group. My favorite section is the rare books sections, where I was able to see and understand how our ancestors composed poems. Being able to get so close to these works has been magnificent," visitor Li Dan said.

The exhibition will officially open to the public on September 9th, which will also be the the library's 105th anniversary.