Foreign Ministers have gathered in Naypyitaw, the capital of Myanmar, to attend the Association of Southeast Asian Nations' ministerial meetings.

Chinese Foreign Minister Wang Yi, U.S. Secretary of State John Kerry, Indian Foreign Minister Sushma Swaraj and Australian Foreign Minister Julie Bishop were among those who attended the summit.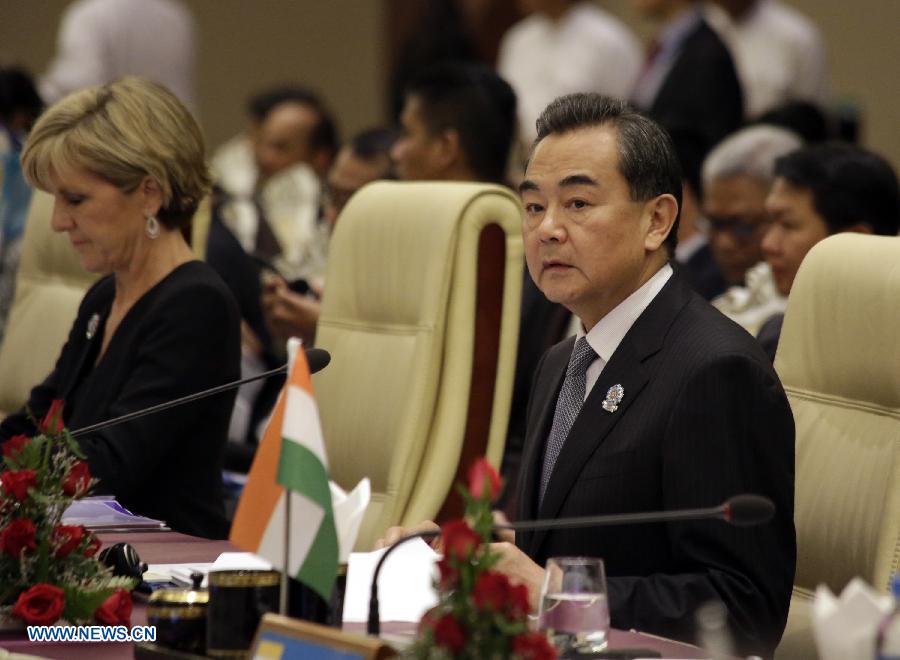 Chinese Foreign Minister Wang Yi (R) attends the 4th East Asia Summit (EAS) Foreign Ministers' Meeting at Myanmar International Convention Center (MICC) in Nay Pyi Taw, Myanmar, Aug. 10, 2014. (Xinhua/U Aung)
The ministers discussed security issues, including the the Democratic People's Republic of Korea's nuclear and missile programs. Talks aimed at ending the DPRK's nuclear weapons program have been on hold since 2008, with Pyongyang having conducted multiple missile and nuclear tests.

On Saturday, Chinese Foreign Minister Wang Yi stated China's stance on the South China Sea at a press conference after the ASEAN meeting. Wang said that full and effective implementation of the Declaration on the Conduct of Parties in the South China Sea is the most effective approach to maintaining peace and stability in those waters. He added that China will safeguard its sovereignty and maritime interests in the area.

"China adheres to the principle that the disputes should be resolved by negotiation and peaceful means. As a responsible country, China is willing to use restraint. But it will respond clearly and firmly to irrational provocations," Wang said.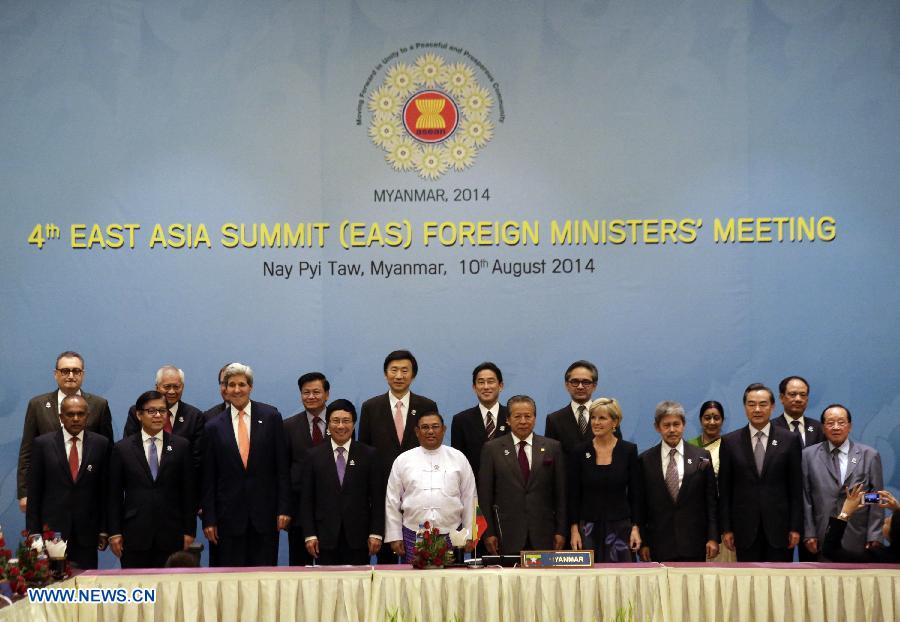 Representatives pose for a photo during the 4th East Asia Summit (EAS) Foreign Ministers' Meeting at Myanmar International Convention Center (MICC) in Nay Pyi Taw, Myanmar, Aug. 10, 2014. (Xinhua/U Aung)
The 4th East Asia Summit (EAS) Foreign Ministers' Meeting is held at Myanmar International Convention Center (MICC) in Nay Pyi Taw, Myanmar, Aug. 10, 2014. (Xinhua/U Aung)