An international team of experts, including scientists from the Natural History Museum and the University of Zurich, have discovered the first new dinosaur species in Venezuela. It's also the first found in the northern part of South America. La Quintasaura - as it's named - was around the size of a small dog, and had a diet of green ferns and the occasional insect.

They're hundreds of millions of years old, yet new species are still being discovered each year.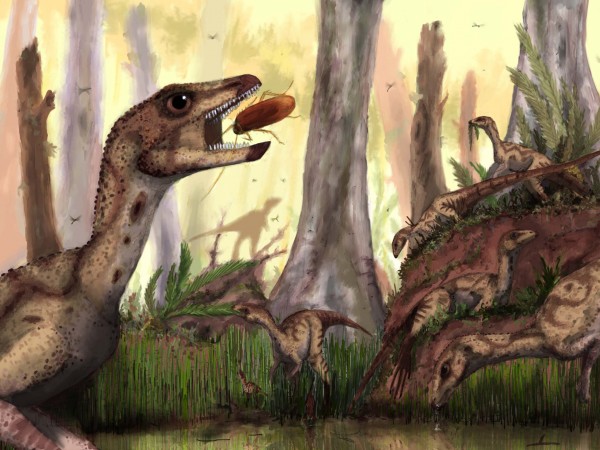 Experts discover first Venezuelan dinosaur
At London's Natural History Museum, scientists have played their part in discovering a new species of dinosaur, the first to be found in Venezuela.

It's around 200 million years old and has been named Laquintasaura venezuelae, after its location.

Dr. Paul Barrett is a lead author of a paper outlining the discovery, which he says is very exciting.

"So, this dinosaur is really exciting because we've never found dinosaur remains in Venezuela before, that have been able to be named. Indeed, this is the first dinosaur from all of northern South America that's good enough to get a name of its own. So it extends dinosaurs into northern South America towards the equator, a region that they weren't living in before and we think that that might suggest that this area which was previously thought to be inhospitable for dinosaurs, may actually have been a lot easier for them, and they may actually have been quite abundant," Dr. Paul Barrett said.

The discovery was made along with Professor Marcelo Sánchez-Villagra from the University of Zürich.

And while the discovery of any species is enough to get experts excited, the location of this discovery is particularly interesting.

"We've been able to date the rocks that Laquintasaura came from very accurately using techniques that look at the amount of radioactivity in the rocks that surround the bones. These techniques suggest that Laquintasaura was about 201 million years old, which is only about half a million years younger than a major mass extinction event that affected all of life on earth around 200 million years ago. This suggests that dinosaurs got through that mass extinction relatively unscathed, or at least if didn't get through the extinction, they rebounded from it very quickly," Dr. Paul Barrett said.

According to Barrett, new discoveries of dinosaur species aren't out of the ordinary, as there are around 50 to 60 new types discovered each year.

Some new discoveries are made at excavation sites, while others may be scientists looking at old bones with fresh eyes.

But what makes Laquintasaura special, is the location, and the period it came from.