One of Sweden's most performed and loved theater pieces 'A Night in February' took the Beijing stage over the weekend. But instead of telling fairytales and idyllic stories, the play centers around children and the problems and difficulties they face in their daily life -- the life that adults know little about.

With simple settings and no cartoon type characters, "A Night in February" is not your ordinary children's play.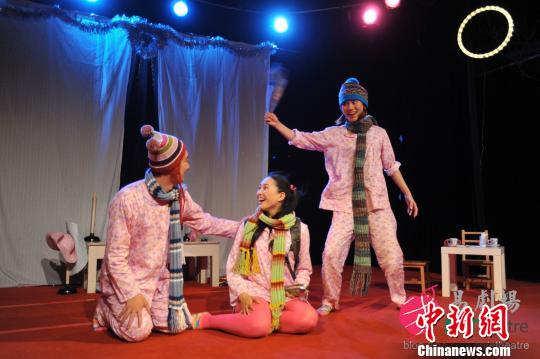 ''A Night in February' took the Beijing stage over the weekend.
The story begins with the thoughts of a boy, slipping out of his mind as he falls asleep.

The play is filled with music and movements, humor and laughs as the audiences are carried through the serious life crises of a little boy who has just had a terrible day.

"This play is very famous because it's from the angle of the children. Very few theater plays dig into the world of children like this theater does. As adults we tend to forget that children are also little adults, but they often have no ways of solving their problems. They don't have the right to quit school just because their teacher treats them unfairly or they're getting bullied," said Maja-Stina Wang, producer/actor of "A Night in February."

"A Night in February" is considered the pioneer of what is called "committed theater" which emerged in Sweden in the late 60s. And the key point is that instead of providing pure entertainment, we should treat children seriously and speak straight to their hearts.

"This play is not only for children's to watch but also for adults, for teachers for parents and children to watch together, so perhaps, hopefully we could create a platform for them to communicate. And to speak about how bad it feels when he's alone and nobody asked him how bad it feels at school. We hope to open a platform and opening, so parents could start asking these questions. This takes less than five minutes everyday. 'How was your day today? ' " Maja-Stina Wang said.

Indeed, it's a play that touches both parents and children, in different ways.

It's the third time that "A Night in February" has been staged in China.

It was first translated into Chinese by Maja-Stina Wang and her classmate Tan Duoduo in 2009 and debuted in Shanghai to wide acclaim.