Related reading:
CAIRO, Aug. 11 (Xinhua) -- The Cairo-based Arab League (AL) urged on Monday the Egyptian leadership to continue its efforts to broker a permanent truce agreement between the Palestinians and Israelis, who have been locked in a bloody conflict for weeks in the Gaza Strip.
Saeb Oriqaat (2nd L), executive committee's member of the Palestinian Liberation Organization, and Nabil al-Arabi (3rd L, front), secretary general of Arab League, attend a meeting at the headquarters of Arab League, Cairo, Egypt, on Aug. 11, 2014. (Xinhua/Pan Chaoyue)
Egypt has so far succeeded in mediating two 72-hour humanitarian ceasefire deals between the warring parties in the conflict-stricken coastal enclave, the latest of which has started on Monday.
"The League council invites Egypt to continue its efforts to cement the ceasefire into a lasting truce between the Palestinians and the Israelis, and resume Cairo-brokered indirect talks to reach a final agreement that puts an end to the Israeli aggression on Gaza," the AL statement said.
Israeli negotiators arrived in Cairo on Monday to continue talks on a permanent truce deal. Earlier on Sunday, Israel announced that its delegation would only return to Cairo when the truce was implemented.
During the AL meeting, the Palestinian delegation called on the League to demand setting up air, land and sea bridges to deliver humanitarian aids to the people in Gaza.
Chief Palestinian negotiator Saeb Erikat asked for the desired protection bridges in Gaza to last from seven to ten days. Meanwhile, "the indirect negotiations mediated by Egypt to extend the ceasefire in Gaza" should continue, he said.
The Palestinian conditions for a permanent truce, most of which are declined by Israel, include lifting the Israeli seven-year- long blockade against the Strip, opening the border crossings, releasing Palestinian prisoners agreed-upon with Israel in a previous prisoner swap, allowing establishment of a seaport and an airport in Gaza and holding an international donor conference for Gaza reconstruction.
Israel also rejects the ideas of building a seaport and airport at present time and demands a demilitarization of the Gaza Strip and the disarming of Hamas, a demand the organization vehemently objects.
Israel is interested in having the Palestinian Authority in charge of the passages into and out of Gaza.
Egypt managed to reach a long-term truce between Hamas and Israel in late 2012 during the one-year rule of ousted Islamist President Mohamed Morsi.
The recent Israeli offensive on the restive Hamas-ruled Gaza Strip has left more than 1,900 Palestinians killed and about 10, 000 wounded, while Hamas attacks killed 64 Israeli soldiers and three civilians.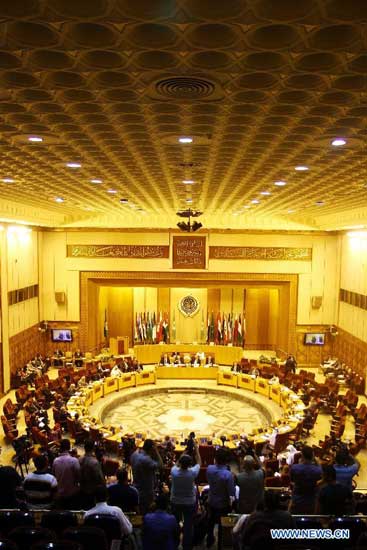 Rpresentatives attend the an Arab League emergency meeting in Cairo, capital of Egypt, Aug. 11, 2014. (Xinhua/Ahmed Gomaa)