The 2014 Tibet Development Forum concluded on Wednesday in Lhasa, capital of the Tibet Autonomous Region. Forum delegates agreed to a new Lhasa Consensus. Over the next few days, many of the overseas representatives and experts will travel in the region to get a truer picture of life in Tibet.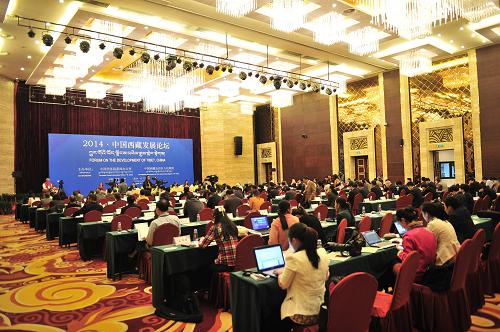 The 2014 Tibet Development Forum concluded on Wednesday in Lhasa, capital of the Tibet Autonomous Region.
The Lhasa Consensus recognizes the uniqueness of Tibet's landscape, natural resources, religious system and traditional customs. It confirms the massive efforts of the Chinese central government and the rising living standards of people in Tibet. It also says what the delegates see in Tibet is completely different from the propaganda of the 14th Dalai Lama.

Many overseas experts say that Tibet can learn a lot from other regions in China and other countries.

"As Tibet starts its journey to make it a new region in China, I think it's important that they look at all the regions in China as well to look what mistakes they've made. It's a beautiful region here, fantastic scenery. I'm really looking forward to seeing it myself," said Pat Breen, chairman of Irish Parliament Joint Committee of Foreign Affairs & Trade.

"We have twelve guidelines. Every man who is deciding or in the deciding level has to deal with the guidelines. He has to think the environment protection and all these decisions and to fulfill these guidelines," said Peter Wittmann, member of Austrian National Council.

Some suggest applying for Tibetan cultural heritages to gain international recognition under UNESCO.

"For Tibet, the religious system first of all, the various habits of population, but also the costumes and the architecture, I think due its unique landscape, and its altitude. Tibetan architecture is a really great contribution to the world cultural heritage. I know that there are seven UNESCO cultural heritages from Tibet. Maybe there should be even more," said Richard Trappl, Director of Confucius Institute, University of Vienna.

The 2014 Tibet Development Forum concluded, but discussions about how to make a better Tibet will continue . During the two-day forum, the focus has been on regulations, guidelines and standards. Experts believe that are essential to realize the sustainable development of Tibet.