Japanese Prime Minister, Shinzo Abe, has sent an offering to the Yasukuni Shrine on the 69th anniversary of Japan's surrender. Abe's aide said the prime minister sent the offering as part of his role as the president of Japan's ruling Liberal Democratic Party.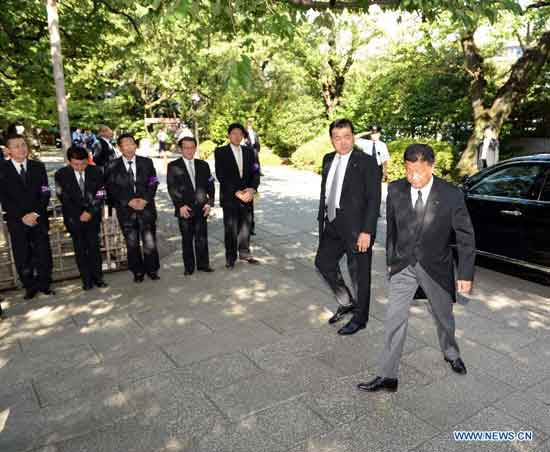 Japanese Internal Affairs Minister Yoshitaka Shindo (1st R) arrives to visit the Yasukuni Shrine in Tokyo, Japan, Aug. 15, 2014. (Xinhua/Ma Ping)
Abe visited the shrine last December on the first anniversary of his taking office. The shrine visit triggered fierce criticisms worldwide, and even Japan's key ally, the United States, said the move was "disappointing."
Earlier on Friday, Japanese Internal Affairs Minister Yoshitaka Shindo and Chairman of the National Public Safety Commission Keiji Furuya visited the Shrine.
The Yasukuni Shrine honors 2.5 million Japanese war dead, including 14 convicted Class A Japanese war criminals during WWII. The frequent shrine visits by Japanese officials have infuriated countries including China and South Korea.