Beijing traffic jams are legendary. With a population bigger than the whole of Australia, rush hour on the ringroads can be a nightmare for ambulance drivers. Things are about to change, though, with the introduction of China's first professional air-ambulance - which officials say will save many more lives.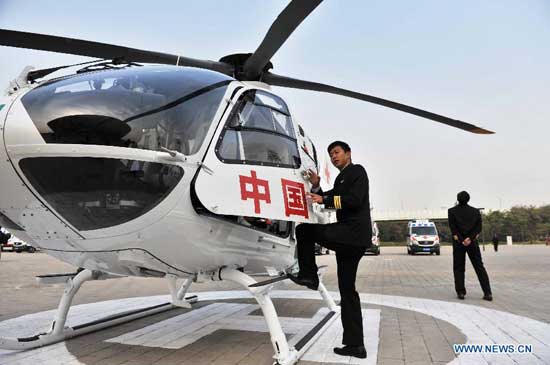 A pilot gets on an ambulance helicopter of the Beijing Red Cross Foundation in Beijing, capital of China, Oct. 28, 2014. (Xinhua/Li Wen)
Flying to the rescue. This twin-engine Airbus helicopter is making history, as China's first fully-equipped air-ambulance. This EC135 will carry out emergency rescue missions and for transporting patients from one hospital, to another. Landing "helipads" are NOT needed.
"If you have any open field - even a playground - that's enough space to land. It doesn't need to be a helipad. Any of these places can receive landing permits," Tian Zhenbiao, vice-director of Beijing 999 Emergency Rescue Medical Center, said.
The helicopter's sliding doors allow patients to be loaded and unloaded quickly. And it's packed with up-to-the-minute medical equipment, for treatment en-route.
"We have a real loading stretcher and we delivered all medical devices. Oxygen, breathing, everything you need to monitor for the patient can be monitored and it can be controlled during the complete flight," Rolf Kraus, sales director of Bucher Leichtbau AG, said.
As Beijing continues to ballon into a mega-city, reaching sick or injured residents on the outskirts is crucial.
With more than five million cars on Beijing's roads, getting a patient in critical condition quickly to hospital is far from easy. A few hundred meters above though, there's a lot less traffic - and a lot more speed.
The helicopter has a top speed of 400 nautical miles an hour, getting patients across town four times faster than on the roads.
"Badaling to Huairou takes one and a half to two hours by regular ambulance, but only 28 to 30 minutes by helicopter," Wei Yanfang, ICU deputy-director of Beijing 999 Emergency Rescue Medical Center, said.
However, the capital's often heavy-smog is a problem, and could slow the air-ambulance down.
The center says the air-ambulance is now ready to use. And it's already receiving calls.
It's likely more Chinese cities will now follow, and order their own air ambulances - something that's already common in many big cities around the world.
"In the United States, there's around 900 aero-medical helicopters. There are 10,000 commercial helicopters in the United States with a population of 360 million. Here in China, there's only 400 commercial helicopters and there's a population of a couple of billion. So you can see the huge potential for aero-medical helicopters in China. It's very needed and not very many," Mike Stanberry, president of Metro Aviation, INC., said.
More helicopters like this in China could save many more lives. From it's quake-prone countryside. To it's densely populated cities.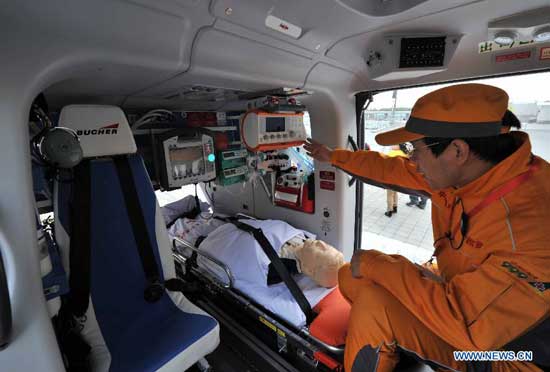 An air rescue team member shows devices of an ambulance helicopter of the Beijing Red Cross Foundation in Beijing, capital of China, Oct. 28, 2014. (Xinhua/Li Wen)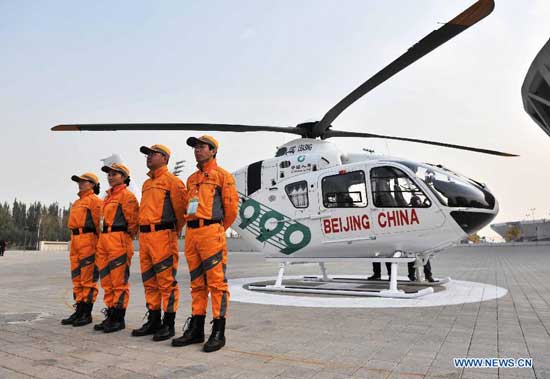 Members of an air rescue team pose for photos with their new ambulance helicopter in Beijing, capital of China, Oct. 28, 2014. (Xinhua/Li Wen)
The professional air rescue team of the Beijing Red Cross Foundation is founded in Beijing, capital of China, Oct. 28, 2014. (Xinhua/Li Wen)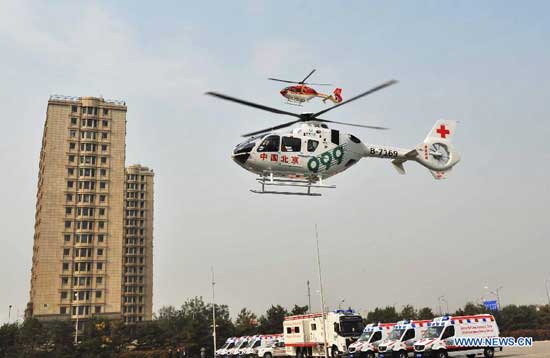 An ambulance helicopter of the Beijing Red Cross Foundation takes off in Beijing, capital of China, Oct. 28, 2014. (Xinhua/Li Wen)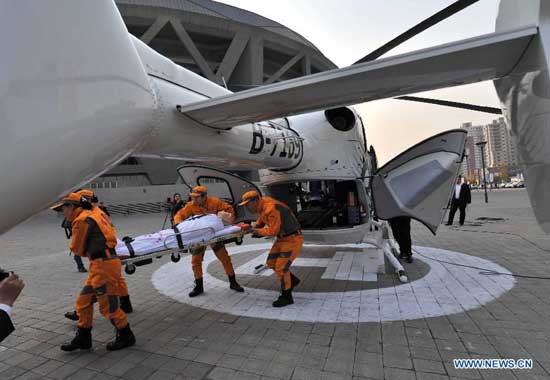 Air rescue team members take part in a drill in Beijing, capital of China, Oct. 28, 2014. (Xinhua/Li Wen)