Chinese President Xi Jinping was welcomed by New Zealand Governor-General Jerry Mateparae on Thursday morning. Xi said he is looking forward to charting a new blueprint for the future of the bilateral relationship, together with the people of New Zealand.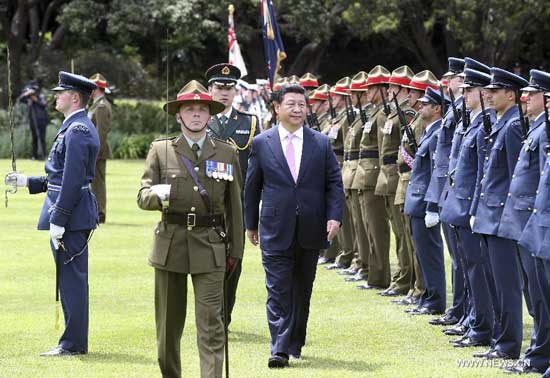 Chinese President Xi Jinping attends a welcoming ceremony held by New Zealand Governor-General Jerry Mateparae in Wellington, New Zealand, Nov. 20, 2014. (Xinhua/Yao Dawei)
There was traditional Maori greeting for Xi and his wife Peng Liyuan. The Chinese guests received hongis from Maori elders on the grounds of Government House in Wellington. They were then issued a Maori challenge called "Wero", with five warriors performing various battle cries and gestures. As Xi picked up the spear, he showed his visit was aimed at peace and friendship.
The couples were also welcomed by teenagers with a Haka dance and a 21-gun salute.
After the welcome ceremony, Xi and Peng talked with New Zealand Governor-General Jerry Mateparae and his wife.
China and New Zealand established diplomatic ties 42 years ago. Xi said the bilateral relationship has taken a leap forward, and has promising future cooperation. He said he is looking forward to working together with New Zealand leaders to promote the bilateral ties.
Meanwhile, Mateparae said he hopes the two countries could strengthen cooperation and cultural exchanges.
Before landing in New Zealand, Xi Jinping concluded his state visit to Australia. He will next travel to Fiji.
Chinese President Xi Jinping (2nd R, Front) and his wife Peng Liyuan (2nd L, Front) attend a welcoming ceremony held by New Zealand Governor-General Jerry Mateparae (1st R, Front) in Wellington, New Zealand, Nov. 20, 2014. (Xinhua/Yao Dawei)
Chinese President Xi Jinping attends a welcoming ceremony held by New Zealand Governor-General Jerry Mateparae in Wellington, New Zealand, Nov. 20, 2014. (Xinhua/Li Xueren)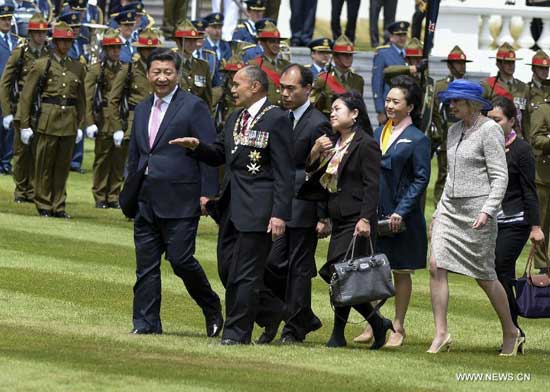 Chinese President Xi Jinping (1st L) and his wife Peng Liyuan (5th L) attend a welcoming ceremony held by New Zealand Governor-General Jerry Mateparae (2nd L) in Wellington, New Zealand, Nov. 20, 2014. (Xinhua/Ma Zhancheng)