Related reading:
ASTANA, Dec. 14 (Xinhua) -- Chinese Premier Li Keqiang arrived here Sunday to pay an official visit to Kazakhstan and attend the 13th prime ministers' meeting of the Shanghai Cooperation Organization (SCO).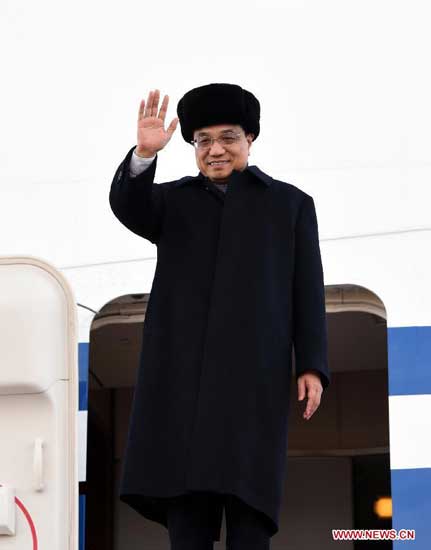 Chinese Premier Li Keqiang waves upon his arrival at Astana International Airport in Astana, Kazakhstan, Dec. 14, 2014.
Upon his arrival, Li said that China and Kazakhstan are good neighbors and that bilateral ties have been constantly growing at high levels in recent years.
"I am looking forward to having in-depth exchange of views with Kazakh leaders on bilateral ties and issues of common concern, so as to further unleash the energy and potential of our comprehensive strategic partnership, upgrade China-Kazakh pragmatic cooperation, foster new bright spots in regional cooperation, boost common development and benefit the two peoples," said Li, who was greeted by his Kazakh counterpart Karim Masimov at the airport.
As for the upcoming SCO meeting, Li said the cooperation under the SCO framework has yielded important fruits in all areas since its founding.
"I am looking forward to discuss with other participants on ways to further deepen pragmatic cooperation and strive to build the SCO into a reliable guardian for relevant parties to maintain security, develop economy and improve people's well-being, so as to bolster regional peace, stability and development," Li added.
During his visit, Li is expected to meet with Kazakh President Nursultan Nazarbayev, hold the second regular meeting between the China-Kazakhstan heads of government with his Kazakh counterpart Masimov, and witness the signing of a slew of cooperative documents covering trade, investment, finance and energy.
The SCO, founded in 2001, currently has six member states -- China, Russia, Kazakhstan, Tajikistan, Kyrgyzstan and Uzbekistan. It also has Afghanistan, India, Iran, Mongolia and Pakistan as observers and Belarus, Turkey and Sri Lanka as dialogue partners.
After Kazakhstan, Li will travel to Serbia to attend the third leaders' meeting of China and Central and Eastern European countries and pay an official visit to the country.
In Thailand, the final leg of his tour, Li will attend the fifth summit of the Greater Mekong Subregion (GMS) Economic Cooperation.