In recent years as Tibet tour gains popularity, more and more tourists travel to Lhasa to spend the Chinese New Year.
Upon this year's Eve of the Chinese lunar New Year, guests gathered at a dinner table inside a hostel around the corner of Barkhor Street in Lhasa celebrating the New Year.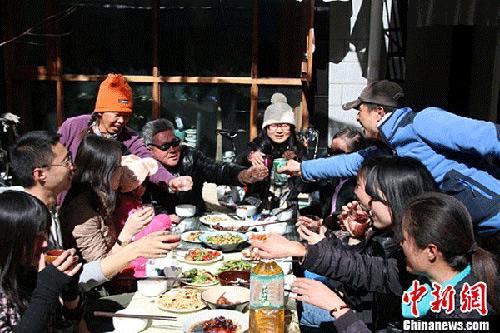 Over ten guests residing in a hostel in Lhasa are sharing the family reunion dinner
upon New Year's Eve [Photo/Chinanews.com].

The dinner, traditionally had at night, was organized at noon to avoid the freezing coldness. When the dinner was ready, the small courtyard of the hostel was bathing in the warm afternoon beam of sunshine while traditional Tibetan music was played around by two self-made sound boxes.
The owner of the hostel was a young couple from Zhejiang Province who were attracted to the landscape and culture of Lhasa upon their first travel here in 2007 and decided to open a hostel to cater other travelers.
According to the host, each year a guest flow peak arrives upon the lunar New Year's Eve and lasts till the end of the Spring Festival holiday. "This year's guest outnumbers that of 2013, " he said, "Ever since the opening of our inn, enjoying the New Year's Eve dinner in the afternoon sunshine while doing chit-chat remains a specialty of us over the New Year holiday."
Related stories
Editor:Zhang Hao |Source: Tibet.cn