Watch Video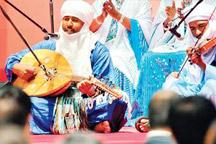 Play Video
In Arabic, Algeria means "island", and the favorite color of Algerian people is white. The country is a fascinating tourist destination. It boasts a favorable Mediterranean climate, historical sites both natural and man-made, and great influences from Rome, Turkey and Arabia. And those in China don't have to travel far, because the country is now celebrating its national pavilion day at the Shanghai World Expo.
Renowned Algerian composer and musician Hamid Baroudi led his fellow artists in an authentic North African concert.
His music blends Islamic as well as varied world music elements. It's a brand new style of African music, performed around the globe.
The Casbah is the ancient part of the major cities in Algeria and elsewhere in North Africa. This historical, architectural and cultural patrimony serves as a reference for the original construction, which has inspired many famous architects and a human-friendly lifestyle as well.
All this can be seen from the front of the pavilion to its final run through the streets of the city, from the central square to the way up to the terrace.
On view at the terrace is a six-minute tour of the Algeria's different amazing regions.
The final space allows people to stretch their imagination of the country's future.
Algeria is the largest country on the Mediterranean Sea, and the second largest on the African continent.
In ancient times, it was the site of the kingdom of Numidia. The region was a fertile area, and Numidians were known for their horsemanship and cavalry.
Algeria boasts several UNESCO World Heritage Sites. They include the first capital of the Hammadid empire and some remarkable Roman ruins.
Fine weather and beautiful landscapes have made it a main tourist destination.
Editor:Yang Jie |Source: CNTV.CN