Pavilion Profile
Theme: One Earth, One UN
Pavilion Day: October 24
Pavilion Features
As the largest, most important, representative and authoritative organization worldwide, UN together with its various organizations present how they have made efforts and achieved success in fields of sustainable development, climate change, urban management, among others.
International Organizations Involved in the Pavilion
International organizations involved in the pavilion include: World Health Organization, World Intellectual Property Organization, the World Trade Organization, the World Tourism Organization, the World Bank, the International Telecommunication Union, International Atomic Energy Agency, International Maritime Organization, the United Nations, the United Nations Population Fund, UN-HABITAT, UNICEF, the United Nations Industrial Development Organization, the United Nations Framework Convention on Climate Change, UNAIDS, the United Nations Convention on Biological Diversity, UNEP, UN trade and development group of encirclement Capital Development Fund, the United Nations, UNHCR, UNESCO and the United Nations FAO.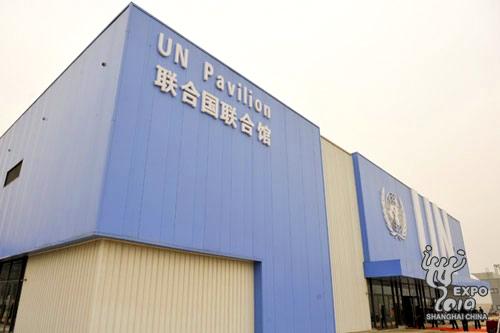 United Nations Pavilion.
Pavilion Highlights
Highlight 1: Eye-catching Outward Appearance
The pavilion boasts a simple but magnificent outward appearance with blue as its main color. The eye-catching emblem and name of the UN can be seen from distance.
Highlight 2: Rich Thematic Activities
A large amount of thematic activities will be held by various international organizations during the Expo.
Editor:Jin Lin |Source: expo2010.cn