Recently, 17th Session of Investment and Trade Fair of Tianjin, China was successfully concluded in the world-class majestic Tianjin Meijiang Convention Center. In the eyes of Teda Construction Group, the contractor and manager of the project, Meijiang Convention Center is not only an engineering program, but also serves as an important window to show Tianjin to the outside world.
Meijiang Convention Center
Erection of Meijiang Convention Center after eight months of construction
Many attendees of Investment and Trade Fair of previous sessions spoke highly of the brand new Meijiang Convention Center. Furthermore, they were surprised to know that it took only over 8 months to complete construction, as they were totally convinced by Tianjin speed. The construction of the project Meijiang Convention Center started on Sept 15, 2009, and completed in May, 2010. Covering a total floor area of 230,000 ㎡and a construction area of 100,000㎡, the key project of Tianjin has always attracted people's attention starting from the preparation period until the official completion. And many Tianjin citizens have the honor to witness the whole construction process featuring "almost presenting a new look each day".
During the visit on site, the journalist got to know Meijiang Convention Center boasts extremely high rate of specifications. Of 98,000 ㎡ of construction area of exhibition halls, those with refined decoration accounts for 40,000 ㎡, a proportion rarely seen in the construction of convention centers. Meijiang Convention Center consists of modern exhibition halls, and various conference halls with comprehensive functions. The convention center is equipped with a conference hall that can accommodate 2000 people at most, a VIP reception hall of 800 ㎡, 10 meeting rooms of about 300 ㎡, and several small and medium-sized conference rooms, reception rooms and negotiation rooms, thus a real combination of exhibition and conference. In the future, the center is bound to be chosen as the venue of many high-end international and national conferences and exhibitions. In addition, the landscape lake of 380,000 ㎡ nearby constitutes a green enjoyment for those visiting the convention center.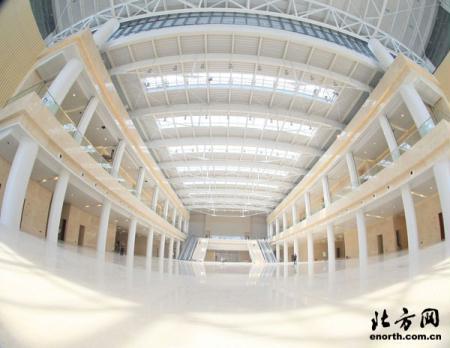 Meijiang Convention Center
Teda Construction Group is brave enough to take on the heavy responsibilities by adhering to professional spirit.
Tianjin municipal party committee and municipal government designate Teda Construction Group as the investor, which is responsible to perform the functions of investment, business operation and management of Meijiang Convention Center. Teda Construction Group is a large state-owned enterprise attached to Teda Investment Holdings Limited with real estate development as its main industry. Thanks to a large group of real estate development professionals with rich real estate development and management experiences, Teda Construction Group has developed more than 100 projects for the past 20 years' development in Tianjin. Teda Investment Holdings Limited, one of the biggest state-owned enterprises in Tianjin, is also a company with a high degree of social responsibility that has participated in the construction of several key projects.