On 12 November, the 16th Asian Games opened in Guangzhou. CCTV-1, CCTV-3, CCTV-5, CCTV-News, and CCTV-High Definition and CNTV conducted a full live coverage of the event. The gross audience rating of the opening ceremony reached 6.95%, and the total audience share came up to 22.04%, that is, 350 million of people all over China watched the CCTV broadcast. On that day, the number of CNTV webpage views reached 136 million pages/times; 5.66 million of viewers watched the live video, and a total number of 28,500 netizens left messages while watching the live video through "chatting while watching". CCTV page views of mobile TV users amounted to 13.25 million, and the video was clicked for 7.55 million times.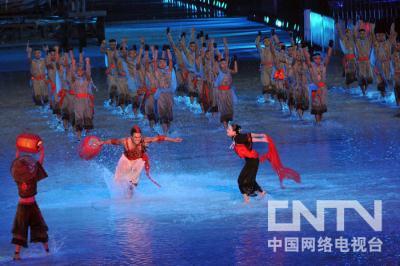 The live broadcast of the opening ceremony lasted for 4 hours. CCTV used 4 sets of systems and 3 outside broadcasting vehicles altogether. A total of 49 venues were arranged for the broadcasting, and special equipment such as helicopters, "Flying Cat" and "Fishing-rod Camera", etc. was put into full play. The live images were distinct and fluent and the shots were hooked up smoothly, presenting the highlights of the opening ceremony to the vast audiences. The broadcasting team also completed the production of channel signals of the TV station and international common signals, and conducted remote transmission of high-definition baseband signals for large-scale broadcasts for the first time.
On the day of the opening ceremony, CCTV-News launched a special live program for the opening ceremony of the Guangzhou Asian Games. The anchorman Bai Yansong was widely praised by the TV viewers and the public voices for his live commentary on the opening ceremony in a news-like style.