Jin Yue Deputy Managing Director of CCTV Procurement Center
CCTV has undergone a channel-centered restructuring this year. And there is curiosity about series to be screened on CCTV.
Loaded, a military series, tells about a "growing pains" story of a modern undergraduate in the special forces as an intellectual. Many plots and contents are even new to me as a veteran. The acting is also quite impressive.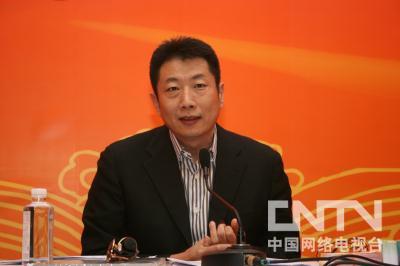 Jin Yue, Deputy Managing Director of CCTV Procurement Center
China Land is still filming in Liaoning Province now. The story happened in Qingfengling (a village in the northeast of China) during the World War II. A peasant was leading the whole village in fighting against the Japanese invasion. The play is created based on the story we've got in the Japanese historical archives.
In 2011 also on the schedule will be the Mother starred by Siqin Gaowa, Informer starred by Liu Yunlong and Meng Guangmei, Happiness at the Door co-starred by Jiang Wenli, Sun Chun and Lin Yongjian, Dahetao starred by Lin Yongjian and Li Qiang, and Nightmare of Japanese Invaders starred by Yu Zhen and Fan Ming as well as The Capable Feng Tiangui starred by Pan Changjiang. In addition, there will be another series based on the Anti-Japanese War - Windtalker. It is created by the famous writer Mai Jia and tells a story of deciphering the enemy's documents. Moreover, Love Story in the Countryside IV is on our shortlist as well, since the previous seasons were quite well received among viewers.
We are also interested in some big-budget productions, for instance, Confucius Years co-directed by Zhang Li and Liu Miaomiao has an all-star cast. It recounts the lifetime of Confucius, starting from his parents.
Big Times, starring Duan Yihong, Gao Hu, Jiang Qinqin and Xue Jianing, tells about a drove of enterprising and pioneering youth and their pursuing dreams in Shenzhen, from whom we can vaguely see the famous and excellent entrepreneurs of our times.
And the following series also call our attention, Li Bai starred by Chen Jianbin, Liu Dekai, Zeng Li and Wang Yankui, A Terracotta Warrior directed by Chen Jiashang and starred by Du Chun, An Yixuan and Gallen Law, Swordsman Saga starred by Nicholas Tse and Charlene Choi, Sophorae Flos starred by Ning Jing and Huang Zhizhong, Yan'an Love directed by Cao Baoping and starred by Yin Tao and Deng Chao, and The Love of Hawthorn Tree directed by Li Lu and starred by Wang Luodan and Li Guangjie.
There will be a collection of theme series to be screened on CCTV next year to mark the 90th anniversary of the founding of CPC, such as the East and Open a New World and so on.
We believe that series to be screened on CCTV next year will surely be diversely appealing!
Editor:张昀 |Source: CNTV