Ma Yihong
At the time of 90th anniversary of the founding of CPC, a TV drama, Be Faithful Forever, will launch at the "Primetime Theater" of CCTV Comprehensive Channel on June 3, 2011. The TV drama was written by Shi Ling, the playwright of The Chief Minister: Humpbacked Liu, and directed by Zhang Shaolin, the director of CCTV-version Romance of the Three Kingdoms and Heroes of the Marshes. The drama Be Faithful Forever focuses on Xiao Gang Village which has been titled "the first village of China's reform". It was created on the basis of the stories of Shen Hao, the first secretary of local party, during his lifetime. Zhang Guoqiang played the role of Shen Hao. Tao Hong, Lv Zhong, Zhang Hongjie, Wei Zongwan and other accomplished actors/actresses also participated in the drama.
Starring Zhang Guoqiang: Five "First" in My Acting Career
Be Faithful Forever was the first TV drama for Zhang Guoqiang to star in after his performance in After Shock. He said that he was deeply moved by Shen Hao and felt lucky to have a chance to act such a great model worker. "When I watched the TV program of "Moving China" and the interview to Mr. Shen Hao, I felt that how a genuine person he was. He was really an earnest man. I was surprised when receiving the invitation from the crew. I was worried but felt it was a special honor for me to act such a great role."
Zhang Guoqiang laughed and said that this drama brought him five "first" in his acting career: first acting a real contemporary person; first starring in a rural drama; first playing a role of the village official; first acting in a crew with many veteran stars; first wearing cotton dresses and shooting a snowy winter scene in summer with the temperature over 40℃.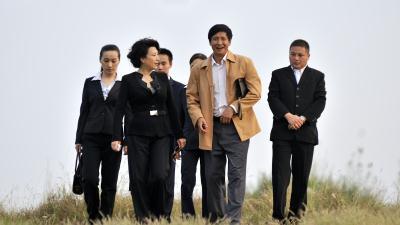 Different from his tough guy image in well-known movies of Soldiers Sortie and My brother named Shun Liu, Zhang Guoqiang appeared in Be Faithful Forever in an emaciated image. "The most powerful things really lie deep in the heart," he said. In order to present the vivid spirit and shape of Secretary Shen Hao, Zhang Guoqiang dieted to lose weight in his strong will, almost collapsed several times. He saved various videos of Shen Hao in his mobile phone in order to figure out the inner feelings of the role. After shooting, Zhang Guoqiang, still immersed in the emotion of role, went to visit Shen Hao's tomb. "I lighted a cigarette and had my monologue in front of his tomb," he said.