Public welfare based on social interests and public weal has attracted increasingly great attention from people. As an important and special part, public service advertisement plays an irreplaceable role in spreading civilization. In the past 30 years, CCTV has produced and broadcast innumerable public service advertisements, which deeply moved hundreds of millions of Chinese people. In 2012, CCTV Advertising Center will adopt seven major measures with a view to producing more and better quality television public service ads to call for civilization and purge soul.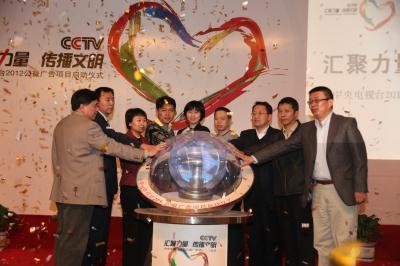 --By Yang Zhengliang
Launching ceremony of 2012 CCTV public service ads themed on "Gathering Strength to Spread Civilization" was held in the multifunction hall of Media Center on Dec. 22, 2011. Leaders of the Office of the Spiritual Civilization Development Steering Commission of the Propaganda Department of the Central Committee of the CPC, the State Administration for Industry and Commerce of the People's Republic of China, the State Administration of Radio Film and Television, China Advertising Association and other relevant leaders attended the ceremony. Besides, representatives of CCTV anchors, such as Li Ruiying, Zhang Bin, Kang Hui, Lu Jian, Lang Yongchun, Lu Yiming and representatives of other dozens of television advertising companies also attended the ceremony.
In 2011, CCTV Advertising Center produced and broadcast a large batch of public service ads, including topics on hot issues of society, such as Helping the Elderly and Children, Left-Behind Children, Schooling for Children in Poor Areas, etc.; topics on advocating conservation and environment protection, such as Double-Sided Printing, Electrical Energy Saving, etc.; topics on advocating building a harmonious society, such as Cartoon Frog—Etiquette and Traffic Safety Series, Caring for Empty-Nest Elderly, Family = Father and Mother I Love You, Liu Yan -- Success Diary, etc; and topics on promoting traditional culture, such as Preservation of Urban Cultural Relics, etc. In 2012, CCTV will establish a special working group for public service ads to strengthen the production and broadcasting by launching more than a hundred public service ads.

CCTV anchors, such as Li Ruiying, Zhang Bin, Kang Hui, Lu Jian, Lang Yongchun, Lu Yiming shared their respective experience and feelings in conducting social undertakings and expressed their wishes and determination to engage in CCTV public service ads shooting in the days to come. Creator and producer of public service ads, such as Family = Father and Mother I Love You, Water and Soil Loss and other public service ads recently broadcast on CCTV, also shared the story behind their creation and titbits. Dozens of excellent public service ads promoted by CCTV for many years were displayed repeatedly on the meeting. At last, all guests went on the stage and launched the public service ads project themed on "Gathering Strength to Spread Civilization."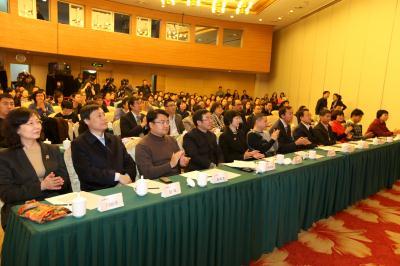 Journalists of nearly 50 mainstream media, including people.com.cn, gmw.cn, xinhuanet.com, China National Radio, Beijing Youth Daily, Beijing Evening News, Beijing Daily, Beijing Morning Post, Beijing Times, Guangzhou Daily, Legal Evening News, sina.com.cn, sohu.com, NetEase, ifeng.com, etc. attended the launching ceremony and gave coverage to it.
Editor:张昀 |Source: CCTV