--By Cheng Hong, Deputy Editor-in-Chief of CCTV and Director of CCTV Advertising Center
A century ago, Douglas Noël Adams, a British novelist said: "You can tell the ideals of a nation by its advertisements."
Half a century ago, US President Franklin Delano Roosevelt said: "There is no other choice than to be an advertising man, if you can not be a president."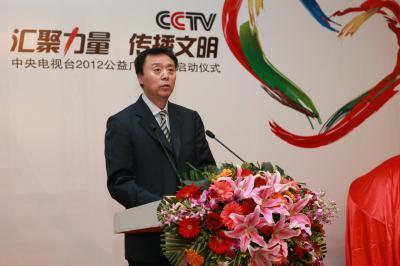 Cheng Hong, Deputy Editor-in-Chief of CCTV and Director of CCTV
Advertising Center
Today, we are happily gathering here to accumulate strength and spread civilization. We are displaying our nation's public ideals and spiritual pursuit by our public service advertisements.
Advertisement also has orientation and politics. Public service advertisement is of more guidance and sociality. It is the banner of social civilization and benchmark of the nation's ideals. It leads social tendency, creates a civilized atmosphere, carries forward a new code of conduct and healthy trends, boosts national spirit, encourages people's morale and promotes socialist core values.
As the state television, CCTV has the responsibility and obligation as well as resolution to promote the great development and prosperity of public service advertisement cause. CCTV has always given top priority to social benefits and poured manpower, material and financial resources for a long time to produce and broadcast public service ads, thus building the best platform for disseminating excellent public ads.
Over the years, although China's television public service advertisement has achieved remarkable progress, it still lags far behind the world's advanced level in terms of its production, creativity and influence. CCTV hopes to join hands with industry colleagues to embody the guidance, influence and credibility of TV media and promote the national progress, social development and people's wellbeing by integrating more resources, pouring more strength, paying attention to social hot issues, listening to the voice of grassroots, uncovering the social phenomenon, positively producing diversified and heart-touching public service ads.
Editor:张昀 |Source: CNTV