Byzantium, Constantinople, Istanbul. Throughout the ages under whatever name Istanbul has never lost it's mysticism and beauty. And not without reason Napoleon once said that if the whole world would be one continent, Constantinople would be it's capital.
With it's twenty million people the city is alive in all it's aspects. It invites you, it excites you. The city inhales and exhales. It truly breathes and the people are the blood that's pumping through her veins and gigantic heart.
Istanbul is a city to discover and never to forget. So by all means: go out and walk the streets where crusaders marched long ago. Bargain in the bazaar district where things haven't changed all that much in over 2000 years. Wander amongst the most tremendous buildings in the world with your mouth wide open making you unable to speak for quite some time. Cross the Galata bridge which is like a city all on its own and meet the most interesting, friendly and hardest people of the city here. Get off the tram at a place you've never even heard off and spend that day getting lost to find your own Istanbul. And last but not least: every once in a while, just sit back with a cup of 'kahve' and watch Istanbul pass by.
Then, and only then, you might have gotten some idea of what Napoleon was talking about and the oldest of memories will meet the new.
The Bosphorus Bridge, also called the First Bosphorus Bridge, is a bridge in Istanbul, Turkey spanning the Bosphorus strait. The bridge is located between Ortaköy (European side) and Beylerbeyi (Asian side).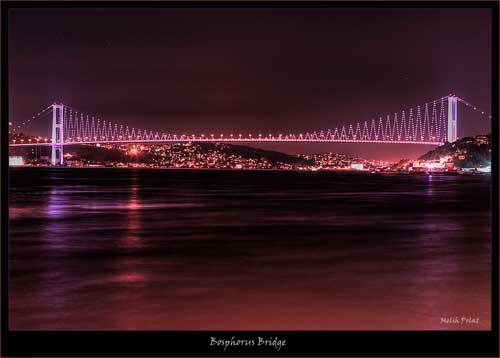 The Bosphorus Bridge