On July 2 at 10:51, as the audience unanimously counted down the final 10 seconds, Adil Hoxur, the successor to "Darwaz" in the Xinjiang Uygur Autonomous Region, ran several steps on the 60-meters-high steel wire and returned to the starting point, which earned him a new world record for the "longest tightrope walk for 60 continuous days."
"Darwaz" means tightrope walking at high altitude in Uygur. By its unique characteristic of tightrope walking without secure ropes, "Darwaz" became a Uygur folk acrobatic activity reflecting people's skill, determination and courage, and has been handed down from generation to generation for nearly 2,000 years.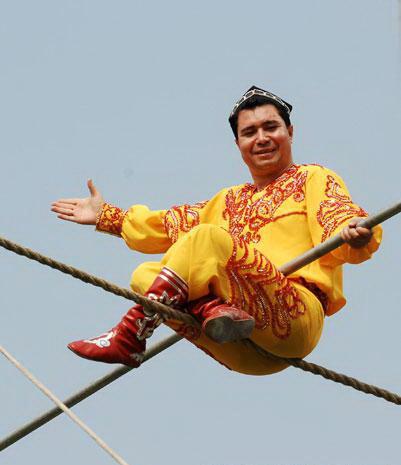 Adil Hoxur earned a new world record for the "longest tightrope
walk for 60 continuous days."
Adil's challenge to the limitless high altitude began at 10:50 on May 3. Adil, also known as the "Prince of the High Altitude," lived alone in a specially designed room above the "Bird's Nest" for the 60 days. He walked about 5 hours each day holding a 12-kilogram balancing pole on the three-centimeters-wide, specially made steel wire, and the total distance he traveled reached 20 kilometers.
"Every second on the steel wire is dangerous. I am under great pressure and I therefore often did not sleep well," said Adil frankly.
Adil also offered brilliant performances such as walking the tightrope while blindfolded, sleeping on the steel wire and standing on one leg for the audience after the challenge was completed.
Adil revealed that his next goal is to cross the 5,400-meters-long distance over the sea between Gulangyu in Xiamen and Xiaojinmen in Taiwan on the 100th anniversary of the 1911 Revolution in October of 2011.
Ismail Tiliwaldi, vice chairmen of the NPC Standing Committee, Tieli Ouardi Abdurixit, vice chairmen of the Xinjiang Uygur Autonomous Region, and Chen Gang, deputy mayor of Beijing, attended the triumph ceremony that day and congratulated Adil on what he had achieved.
Editor:Shi Taoyang |Source: CNTV.CN