On July 5, sad news came out of the Beijing Zoo that the giant panda Ying Hua, who had just given birth to twin girls, lost her elder daughter and her younger daughter had been sent to the Wolong Nature Reserve in Sichuan province for her first feeding time. Since losing her elder daughter, Ying Hua has completely lost her appetite, and she spends her time looking around the delivery room. She even dug out the floor with her claws; the whole scene was miserable.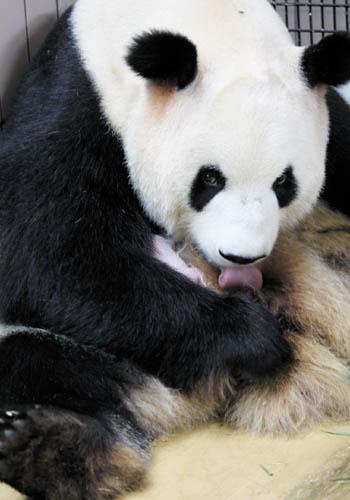 Being a mother for the fist time, the giant panda
Ying Hua's eyes were full of love, and she would
pick up her baby with her mouth and lay the baby
against her chest and licking its fur.
Cold-shouldered by her mother, the younger daughter was sent to Wolong Nature Reserve
At around 9 a.m. on July 2, the Beijing Zoo, which had not previously played host to new-born giant pandas, welcomed in two healthy little lives, with Ying Hua giving birth to twin girls for the first time. The two babies were born 49 minutes apart. On video, giving birth to the first baby made Ying Hua nervous and excited and she was deeply touched by her baby's crying. Out of animal instinct however, Ying Hua turned a blind eye to her second child. The newborn baby stumbled and crawled to her mother but Ying Hua was engrossed in the baby in her arms. The poor child climbed farther and farther away from her mother because she was not able to feel any love from her mother. The breeder took the opportunity to fish her out of the delivery room.
Two hours later, the zoo staff went straight to the Capital Airport with the neglected baby and intended to send her to Ya'an Bifengxia Base, the China Giant Panda Protection and Research Center. More than 80 giant pandas live in Bifengxia scenic spots and every year there will be over 10 new mothers. They have enough giant panda milk, which is non-substitutable and cannot be synthesized, to provide sustenance for the cubs. Currently, the lucky baby is staying in the incubator in Ya'an and her physiological indicators all are normal. Experts have done gender identification for the baby and concluded it is a lovely little girl. She will return to the Beijing Zoo in six months.
She loves her elder daughter but killed her due to carelessness
It was the first time Ying Hua had been a mother, and she therefore lacked childcare experience. In addition, she was overly cautious and any sound from her baby made her nervous. She continually adjusted her body, either helping the baby to find her nipples or by picking her up and licking her. At 4:30 a.m. on July 3, Ying Hua wanted to take a nap because she had been sitting in a corner along the wall and had not slept for more than 20 hours. Then, she turned her body to against the wall, which originally was the safest position for babies. This time however, the move killed her baby. The time when she turned back, the breeder heard a hoarse cry but he could only see the back of Ying Hua on the monitor. 10 minutes later, the baby slipped from her mother's arms and fell to the ground, dead.
The breeders are very sad because they were planning on giving it a name, they had not been able to determine its sex and they wanted to find its father. As Ying Hua had experienced both natural mating and artificial insemination, Gu Gu, Da Di and Xiao Shuang all may be the baby's father. At this time, they can only conclude that the unlucky baby was also a girl and Ying Hua has given birth to twin sisters.
Editor:Shi Taoyang |Source: CNTV.CN