The hot weather has made the sale of air-conditioners at home appliance stores extremely popular and the income of air-conditioner salespeople has also multiplied. Reporters learned from Gome Electrical Appliances on July 6 that the monthly income of salespeople for the first-tier air-conditioner brands such as Gree, Midea and Electrolux has easily broken through 10,000 yuan. Liu, an air-conditioner salesperson at the Madian Branch of Gome Electrical Appliances, earned over 40,000 yuan a month and was called "the most outstanding air-conditioner salesperson in history" by his colleagues.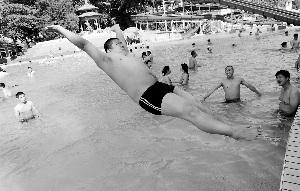 It is another hot day in Beijing. People come
to Qingnianhu Park's Water World to pass the hot day.
The sales volume of air-conditioners depends on the weather conditions. Liu said that because the weather is unusually hot in Beijing this year, he is now able to sell more than 2,000 air-conditioners a month. If the hot weather continues for another few days, his income this month is expected to exceed 50,000 yuan.
According to sources, in order to seize the opportunity and capture the market, some home appliances stores including Gome, Yongle and Dazhong all began to hold sales promotion activities under Chinese government's subsidy policies including the energy saving subsidies, subsidies for exchanging old for new units, superstore subsidies and supplier subsidies. The prices of some air-conditioners, and especially that of energy saving air-conditioners, have directly decreased by about 30 percent.
Capital Airport
Taxi drivers said, "There is no shade in Terminal 2, so we all don't want to go there."
A series of hot days really wear out the taxi drivers waiting for potential passengers at the airport. On July 6 at Capital Airport, reporters saw that most taxi drivers came to Terminal 3 while there were seldom taxies seen at Terminal 2.
The reason is that there are no trees in the left side of the freight road at Terminal 2 where the taxi drivers queue up and the parking lot is also open and exposed. Despite turning on the air-conditioner, some drivers still sweat profusely. "The sun is so hot, so it is no use turning the air-conditioner all the way up," said a driver. Another driver said with envy, "The cooling in the Jetta is better than in our cars."
The taxi drivers in Terminal 3 can queue up in the underground garage, therefore many drivers go there. "Queuing up while the air-conditioner is on is better than suffering from sunstroke, though it wastes gasoline." A taxi driver from Shouqi Group Wang Qiang said that due to the high temperatures, the number of taxi drivers waiting for potential passengers in the airport has decreased and he can pick up passengers within about one hour when normally he has to wait for about two and half hours. In addition, few people go out and so the condition of the roadside is also poor.
Reporters saw that the Shouqi Group has sent not only iced mineral water and small towels to the queuing drivers but has also prepared medicines for sunstroke prevention.