The Beijing police announced on June 30 that the 21 detention centers in Beijing will be open to all visitors. What kind of place is detention center? What are the living and eating conditions of the detained criminal suspects incarcerated there? How are the detention centers in Beijing managed? With those questions, the reporter visited the Beijing Xicheng District detention center in July.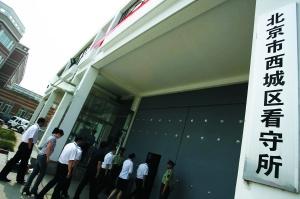 The heavily guarded detention center is now open
to visitors
The first stop is the big iron gate
"AB" are two doors that cannot be opened at the same time
The Xicheng District detention center is located at No.3 Qiliqu Village, Shahe Town, Changping District, Beijing. Although the wall is over five meters high, it's painted in a bright brownish yellow on the inside. There is a big concrete yard with sculptures in it and a standard grass football pitch, which makes you feel like you're in a big garden.
The reporter saw armed police guarding the gate and all the visitors needed a visitor's pass to enter the detention center. After passing through the big iron gate, you see another gate. A staff member said that this closed door and the other one outside are called the "AB" doors, and these two doors cannot be open at the same time under any circumstances.
The second stop is the reception office
The criminal suspects undergo physical examinations
Visitors first come to the reception office. There are clean lockers in the reception hall and a Notice for All Units on the wall, saying "Before entering the hall, a detention center should check the criminal suspects' body and property to prevent them from bringing dangerous and forbidden objects into the detention center and hurting themselves or others."
The reception office has a pre-testing section and a processing section. Criminal suspects first wait in the pre-testing section for a physical examination, and after passing the physical examination they will wait in the processing section. If any criminal suspect is injured or sick, the police who sent them there should honestly report it to the doctors. Mao Lixiong, a civilian police officer in the detention center said that other than dangerous objects, cellphones and cigarettes also cannot be brought into the detention center. The reporter noticed that there is a yellow line and a green line on the floor next to the wall. The yellow line is for detainees to walk on and the green line is for visitors, and they are forbidden to take photos.