Ganzhou, the second largest city of Jianxi province, was not affected much by the recent floods that struck China's southern regions. Children happily play with water and enjoy the fun of fishing near the city gate, and vendors still calmly sell things despite the devastating floods. It appears that they do not regard the flood as a disaster at all.
Parts of Ganzhou had nearly 100 millimeters of rainfall on June 21, but the city did not suffer waterlogging. In contrast, neighboring cities such as Guangzhou, Nanning and Nanchang were all severely waterlogged, and some were nicknamed the "Venice of China" by discontented residents. As a result, the inefficient and even ineffective drainage systems in these cities soon became targets of public criticism.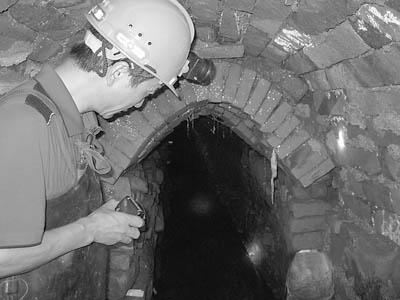 A utilities employee inspects the Fushou Ditch
The difference arises from the well-established drainage system consisting of the Fushou Ditch built during the Song Dynasty, as well as other ditches in Ganzhou.
A senior official in Guangdong province admitted in an interview that Ganzhou has the best drainage system in China, but he also stressed, "Ganzhou just inherited the system from their ancestors."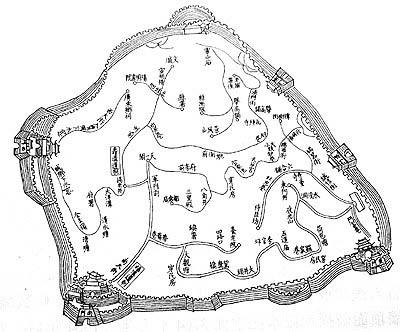 A map of the Fushou Ditch drawn during the reign of Guangxu of the Qing Dynasty
A city that has never been inundated
The Fushou Ditch is made up of a brick wall and arch, and has lots of drain holes like traditional Chinese copper coins on its top. According to statistics, the largest hole is 1 meter wide and 1.6 meters deep, and the smallest one is 0.6 meter wide and deep, figures that are consistent with the local chronicle.
After three hours of ventilation, the reporter put on a raincoat like a maternity dress, descended a bamboo ladder, and finally saw the Fushou Ditch, which was built more than 900 years ago. With the help of the headlamp, a seemingly endless brick passage appeared. The air was filled with a horrible smell, just like the mixed smell from a stagnant pool full of garbage that has not been cleaned or dredged for many years.