Reporters learned from Chaoyang District's City Appearance Bureau on July 14 that the Gaoantun Kitchen Waste Disposal Plant, China's largest of its kind, was put into trial operation several days ago.
After Phase two is completed, the facility will have a daily disposal capacity of 400 tons, effectively disposing of the kitchen waste created by 4 million urban residents as well as creating more than 500 jobs.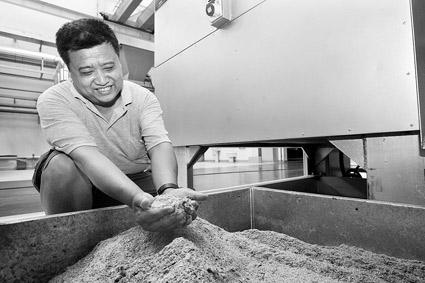 A worker is checking the feed made from kitchen waste
Will the plant become a new source of pollution? With this question in mind, our reporter paid a visit to the plant during its first open media day.
Response from local residents
"It's really annoying. What can we do about it?" On hearing the news of the construction of the Gaoantun Kitchen Waste Disposal Plant in May 2009, residents from the Wanxiangxintian Community expressed their concerns via the Internet because their community is very close to the plant. After being completed in November 2009, the plant was put into trial operation several days ago. Will it become a new source of pollution?
At the same time, reporters interviewed five people from Magezhuang Village. To the reporters' surprise, however, all five villagers knew nothing about the new plant and they also had not sensed any sudden decline in air quality.
Site visit
The plant looked very mysterious, as reporters saw nothing but a security booth at the entrance.
At the waste-unloading zone, where there are three air intake ducts near a garbage chute, reporters did detect any peculiar smells.
A manager there told reporters that the three ducts will draw foul odors into a deodorizing device, treat the air and then discharge it.
After the waste has been unloaded, several flushers will wash the tires of the garbage trucks in order to prevent the tires from carrying food waste out of the plant.
The plant also treats liquid food waste until it reaches the class two wastewater discharge standard.
Secrets to odor control
There are two rows of boiler-shaped devices in the next workshop. Workers here will put food waste and a kind of bacteria into the devices and then heat it to 70-80 degrees Celsius. Seven to eight hours later, the food waste will have turned into a fine powder. Reporters did not detect any foul odors from the powder.
Later, animal feed made from the fine powder and smashed corn maize will be produced.
It is said that the Gaoantun Kitchen Waste Disposal Plant will be put into formal operation in September 2010, with the daily disposal capacity at 200 tons.
Editor:Shi Taoyang |Source: CNTV.CN