Survey focus
Many communities in Shijingshan, Fengtai, and Shunyi districts
Sampling
How to handle the conflicts between residents' leisure activities and the noise created by these activities?
Many communities in Beijing have their own space for public activities, and they are usually favorite leisure places for residents. Yet, while some residents enjoy the fun from community activities, others have to tolerate the noise generated by these activities. Residents are greatly concerned with how to reduce the noise generated during community leisure activities.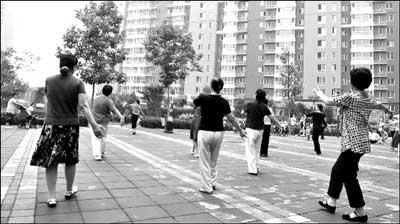 Elderly people dancing to music in a residential community in
Shijingshan District on the early morning of July 11th
Jinding Yangguang Community
As the community is open to the public, its central zone almost becomes a clamorous market
The noise generated during community activities has always been a hot topic on the web forum of the Jinding Yangguang Community in Shijingshan District. Local residents said that the community is not under enclosed management and as a result, people from other communities nearby come to the center of this community to take a stroll, walk their dogs, or exercise every morning and evening. Especially in the evenings, the central zone of the community almost becomes a clamorous market.
Recently, reporters found by interviewing relevant people that many residents exercise at the center of the community at half past seven in the evenings. Several residents who were taking a rest after dancing explained that they come to the community to dance every day. When asked whether the sound of music will affect the residents nearby, one of them looked unhappy and said, "We do not play the music so loud!"
Concerning the noise problem, residents living near the center looked helpless. Their complaints include, "Quite early in every morning, people walk their dogs, exercise, and chatter loudly. That makes us unable to fall asleep." "Some people dance till late night every day and keep their music loud. We cannot even hear the TV voice if the windows are open." Therefore, the local residents often get into quarrels with the dancers there.
Reporters called the property management company of the community in regards to the noise problem. An employee said that they have received complaints more than once from community residents. They have tried to persuade the dancers not to affect others' lives and yet they are unable to dismiss them by force. With regard to whether enclosed management can settle the problem, the employee said that the current occupancy rate in the community is only 50 percent, and some owners are still sprucing up their houses. After most of the home owners move into the community, the management of the community will be further strengthened.