Since the second enterprise-sponsored summer camp opened, 50 little campers have not only got the chance to visit many pavilions at the Shanghai World Expo Park such as the China Pavilion, U.S. Pavilion and the British Pavilion, but they have also visited the Shanghai Science and Technology Museum, the manufacturing workshop of large aircraft of the Commercial Aircraft Corporation of China, and the sightseeing hall of the Shanghai World Financial Center to witness a fashionable and developing Shanghai. They also witnessed their increasingly powerful motherland and the colorful world through visiting Shanghai.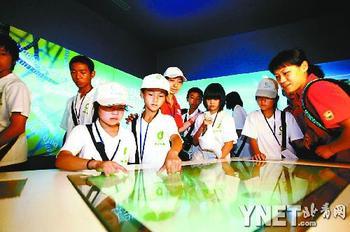 Little campers visit the Shanghai Science and Technology
Museum
Dream tour - face to face with idols
Each teenager has a beautiful dream. Yang Qilin, a girl of the Qiang ethnic group who is entering her sophomore year in high school, hopes to become a sports journalist in the future. "I was not sure about my future in the past, but now, it becomes more and more clear and I hope to be a sports journalist in the future," said Yang.
On the day of the camp opening ceremony, Yang wore her folk costume and was arranged to be seated beside Yao Ming. She summoned her courage and gave Yao a letter she prepared earlier wishing him a quick recovery, and also took out a small book and asked him for an autograph. Yao smiled as he signed her book and told her to study well.
A lot of chances in a person's life can change or affect their future. At the first summer camp conducted by China Life in 2009, several campers developed a liking for photography and in 2010, they are able to easily take photos with single lens reflex cameras, and "catching the moment" will always be their hobbies regardless of whether they engage in photography in the future.
This is also true for Yang during the 2010 camp. Yang's motivation of achieving her dream became more powerful through close contact with her idol Yao.