Volunteers can earn 0.1 points and 10 yuan if they successfully mediate a civil dispute, and can earn two points and 200 yuan if they provide clues to the police leading to the capture of escaped criminals blacklisted by the Ministry of Public Security.
The rewards system for public security volunteers, which was launched by the Jiangsu Suqian Public Security Bureau, has caused social disputes in August this year. Some people believe that kindness should be promoted by improving people's morality rather than stimulating them using materials benefits.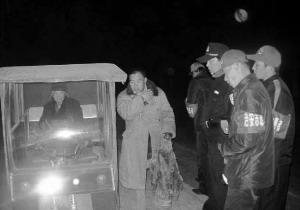 Public security volunteers are patrolling at night.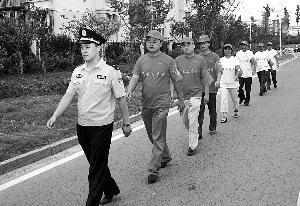 A community police officer is leading public
security volunteers on a patrol
Suqian's Vice Mayor Liu Yajun, who thought of this idea, said he wanted to make people care more about public security through material rewards.
According to sources, this system was implemented due to insufficient local police strength. The recruit volunteers would have to take on tasks such as patrolling, helping ensure street security, and monitoring suspects.
Some experts believe that related departments should remain alert on the possibility that all people may become security volunteers, and some volunteers without law enforcement power may infringe upon other's privacy and personal rights driven by interests. They believe that improving morality is the foundation of kindness.
At the Huarun Fruit Store in Siyang County of Suqian, Jiangsu Province, two people with bags just got off the bus when they were mugged by a woman.
They pursued the thief and yelled for her to stop.
Chen Sanjun, a three-wheeler driver, was just riding down the street. The woman was over 100 meters away but he ran after her and managed to subdue her on the ground and take her to the police station. Chen was rewarded with 100 yuan after several days.
Chen is a newly recruited public security volunteer.
Suqian started to recruit public security volunteers half a year ago, and implemented a basic rewards system for various acts of kindness, ranging from 0.1 points and 10 yuan for mediating a civil dispute to 10 points and 1,000 yuan for capturing a suspect in a major criminal case.
Currently, there are 38,000 public security volunteers in Suqian, with 1,521 volunteers having already received rewards totaling over 206,000 yuan.
Various doubts were caused after Suqian's rewards system was launched.
Liu Hongbing, associate professor of the Public Security Department of the Chinese People's Public Security University, said government organizations need to be alert to the possible risks of the rewards system.
He also said that using points to exchange cash seems to be spiritual and material rewards, but it may become only material stimulation. The new system offers a reward to security volunteers, which may cause declines in the public's moral standards and their respect for the law.